...............at
The Cuttlebug Spot
! Our challenge this week is to create a project using "Celebrate Education" as your theme! I made a card using a new technique for me - masking! I stamped my Tilda first, stamped her a second time on a scrap sheet of paper and then masked her and stamped the desk over her to give it the appearance of being behind her. It took a couple tries to get it lined up just right but I think I like this technique! Most the time I just stamp the background image and then cut out the foreground image and pop dot it so I might just do this masking thing again!
I used the DCWV school packs - High School and Grade School (I really like these 2 if you can tell I've used them a lot lately........LOL), ribbon from my stash, the Adventure ticket is from EK Success, Swiss Dots and Numbers Cuttlebug Embossing Folders, Copics and check out that cute little corkboard star on the bow!! I had it in my stash and thought it would go great with this!
My card: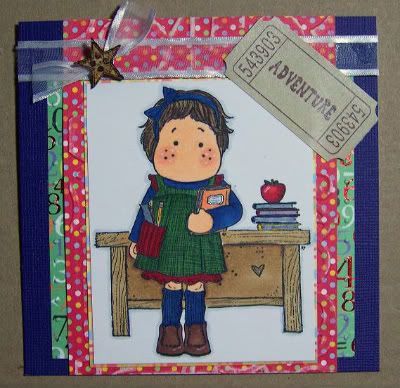 The cute little corkboard star:
and Copics: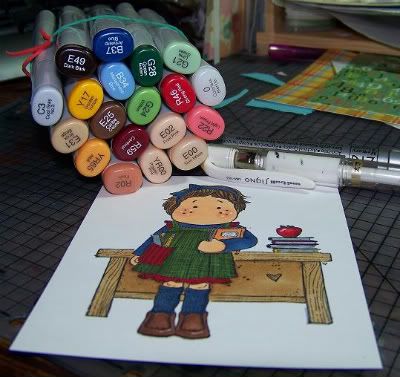 I think this little Tilda is just adorable. While I was working on this card I was thinking of one of my co-workers little girl who just started her first year of school this past week. I remember when I put Cait in school the first time it was a big adventure for her so the EK Success ticket Adventure fit just perfect for me. It also reminded me that my babies aren't babies anymore! Can you believe our son will be 17 in October and our daughter 18 in February! UGH!!! LOL
Anywho, I am also submitting this card at
PaperCraft Planet
for the sketch challenge this week too so stop by and join us if you can!
The final challenge I used this card for was at
Paper Play
- who also used the theme Back to School.
As for personal stuff, let's see:
Kids are enjoying school and seem to be settling in good. They enjoy their classes so far so that is a plus.
Rob is still doing great at his job. He is out of training and actually working on his own so when he gets home his brain is a little fried but he is enjoying it.
Me, my job is going well. I've gotten some good recognition for my hard work - I am still learning the ropes though so things are still a little fuzzy for me but they are happy with me so far - that's a good thing..........LOL.
My Mom and Dad will be here this Thursday!!!! I am so tickled about this lemme tell ya! I haven't seen them since we moved in May and I was used to seeing them every 3 weeks or so - a big adjustment for me! LOL My brother was going to try and come down for the weekend too because we haven't seen him in a few years but his work has been slow so he can't make it this time. Luckily we only live 6 hours from him so hopefully after a few months he is back to working steady and we've finally come out of our financial hole from being out of work for almost a year and then the move on top of it that we can get together.
OK, I'm off - I started back to school this past week as well so I have a lot to get done in order to spend time with my parents this next weekend!
Thanks for stoppin' by and happy scrappin'!!!