..................to my darling best friend from high school Jennifer!!! Jenn and her husband Todd celebrated the birth of their 2nd child together yesterday. Kaitlyn Jo was born at 8:29 a.m. weighing in at 11 lbs 6 ounces and 20.5" in length!!! She is a chubby little thing but absolutely adorable!!! I just wish I was closer to Connecticut to see her!!!!
I did get some cute pics of Snow that I can share though - no, not the white stuff that comes from the sky, my kitty Snowball!!! She is just freaking adorable!!! She put in some hard work helping me last night and had to crash on the desk in the middle of creating!!!! LOL
This is when she first crapped out: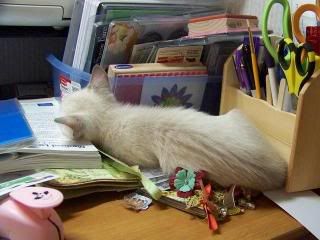 During a brief moment to check and make sure I was still working: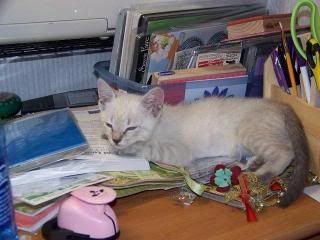 And then out again: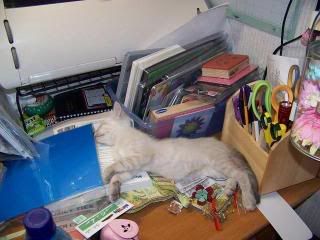 I just wish I could capture her and Daisy wrestling - they are so darn cute. The kitty has been known to wrap herself around Daisy's head!!! Oh, last night I went into see what Cait and Dyl were doing and Snow had Daisy all tangled in a sheet and whacking the crap out of her - it was hilarious!!! When Daisy got loose she got her back though and chased her through the house. They remind me of a couple little kids playing!!!! I'll be trying to get a pic of them and when I do I'm sure I'll share!!!
I made two cards between last night and today AND I made a light box for taking pictures of my work. It seems to work rather well I just need better lighting for it. Here is a picture of the light box and one of the cards I made - the card is blurred because it is my DT assignment and I didn't realize it til I went to upload the picture last night and was just too lazy to retake it.
And here is the card I made today:
Overall I like the card but looking at it I would have done a couple things different. It's OK though, I can change it up on another card I make later!!!
Materials list: CS = CoredinationsPP = ChatterboxStamps = Have no clue, they are old.Copics = YR16, E14, G19, YG03, Y08, B32 & E30Ribbon/Fiber = EK Success
Thanks for looking!
We watched Baby Mama and Love Guru today - talk about laughing my bottom off!!! Those were both pretty good movies!!! I about died with all the innuendos in Love Guru - funny stuff!!!
That is about it for today!!! I'm going to play some Warhammer I think and then maybe watch another movie with the family. I'm kind of tired today after not sleeping well last night so I may make it an early night to be as I have some stuff to do tomorrow so I definitely do not want to be tired!!!
Happy Scrappin' and have a great evening!!!!