..................Yep, you read the title right - Professional 'Blow'job!!! This week at
Charisma
we decided to step it up a little and change our normal card challenges into a layout challenge. My LO was inspired by the sketch over at
Unscripted Sketches
- although I don't know if they will like me linking to them with this title but...........it is all in fun so get your minds out of the gutter!!!!
So background on my LO:
In April of this year if you recall I went to Tennessee on a scrappy retreat with some lovely ladies. Since the retreat we haven't been as close and this tears at my scrappy heart but what do you do. Regardless, the subject of my layout is
Aymee
. Aymee is just adorable and definitely girly. I just love her style and outlook on life. While we were in Tennessee before going up to the cabin Aymee decided to paint her toenails. She was in a hurry to dry them so she grabbed the hair dryer - and I grabbed the camera. While she was "blowing" her toenails I told her I had the perfect layout in mind titled "Professional 'Blow'job"!!! Since April I haven't done a lot of layouts due to time constraints with so much going on in our lives including a move, new jobs, getting settled in, school, etc. When Carly challenged us this week to do a LO to shake things up a little at
Charisma
I knew that this LO was ready to make its debut to the scrapping world - and most likely get me some nasty comments/emails but hey, lighten up, it is all in fun!!!!
So, get your minds out of the gutter and be gentle on me with this - it truly was done all in fun!!!
A close up of Aymee's toes!!! Hey Aymee, at least I didn't use the picture of you flipping me off!!! LOL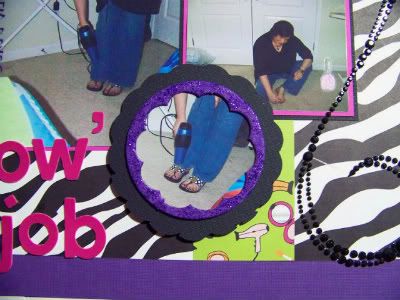 Check out the rub-on of nail polish, how cute is that?? LOL
And how bout that rub-on of the hair dryer???
And my final tribute to my girly girl Aymee, "Girls Will Be Girls":
I also used this LO for a challenge I found during my blog surfing over at
Creations by KW
since it was a simple challenge to just do a LO.
I hope you got a good laugh from this layout. I truly do not mean to insult anyone, it is a lighthearted play on words for a very fun memory I have of our time together in Tennessee!!
Thanks for stoppin' by and happy scrappin'!!!