Hi all!!! Welcome to the
AdornIt Blog Hop
. We girls over at
Scrappin' Mojo
have joined forces with AdornIt to have "blog hoppin' time" this weekend and we want YOU to join in!!! So, if you have started at my blog you should go back to the
AdornIt
blog so you make all the rounds, if you are here from the hop WELCOME and read on - our next blogger will be at the end of my post!!!
I jumped at the opportunity to participate thinking this will be easy peasy! My daughter, Caitlin, was one of the 5 winners for the AdornIt Teen Chix contest last spring so I figured she had LOTS of stuff - let me tell ya, the box that AdornIt sent her for winning was piled full of fun stuff but.......................GAH!!!................she informed me that she had used it all!!!! With all the paper I have I knew I just had to have some AdornIt stuff to work with but after searching through the mountain (it was a mountain cuz I had it all out going through it) of papers I found one, yes 1, ONE piece of AdornIt paper!!! UGH!!!
Part of my papers that I had to go through:
So 1 piece of AdornIt paper to work with - this was gonna be challenging! I found a really old picture of my grandma and me - early 70's - in what she referred to as a "moo moo" that she made to match hers. The picture is not a real good pic but it is a scanned Polaroid from the 70's so what can ya expect? LOL Regardless, I love this picture because it has amazing memories with her.
I ended up using my lone AdornIt paper from the Nancy Jane Collection - Aged Line Black, Thickers, Prima swirls and Prima flowers.
I made a mat that opens so I could do some journaling inside and, here is the coolest part, take a pic of the "moo moo" because my Mom still has it!!! Unfortunately my Nana passed away in the late 90's so I can't get a pic of me and her together with it but the memories are there and that is what counts!!!
Here's the matted pic opened so you can see where I will place the journaling and the new pic: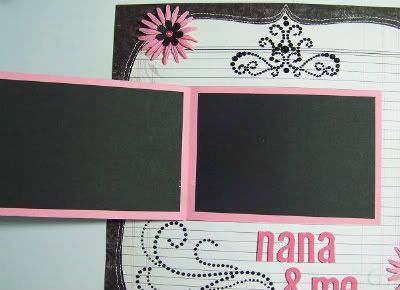 So, now that you have hopped to my blog it is time for you to move on and see what
Kelly Waterman
has in store for you!!!
Thanks for stoppin' by and happy scrappin'!!!