Well, I did it! I made it through teller training and graduated today! It was kind of scary because we had to give a presentation in front of the attendees (and fellow graduates) and I'm not the best when it comes to public speaking but............I made it through it with no "visible" ooopppssss's!!! I start work in my store tomorrow morning and am excited but still a little nervous!!!
Another bit of good news.................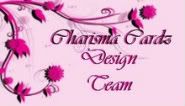 That is now a permanent banner for moi!!! One of the ladies has had to step down for a short while and Carly asked me if I'd like to fill her place and become a permanent part of the
Charisma Cardz DT
!!! Of course I didn't think twice about it because the girls over there are just fantastic!
Thanks for stoppin' by and happy scrappin' - hopefully I have some stuff to show off this weekend but things have been so hectic with school and going back to work I haven't had a chance to do much!!!