Today in class our instructor was talking about pretty badge holders. I wasn't sure what she was talking about til she pulled up the
Brighton site
and showed me - wow! All I can say is they are so so so spendy! I told her I would give it a whirl and see what I could come up with. Now keep in mind, I worked just from stuff I had in my jewelry making supplies so they aren't perfect and they def aren't
Brighton
but I don't think they are too bad!!! My fav is the butterfly though!!!
What do ya think?
The butterfly:
and a closer up pic:
And the crystal heart:
and a closer up pic: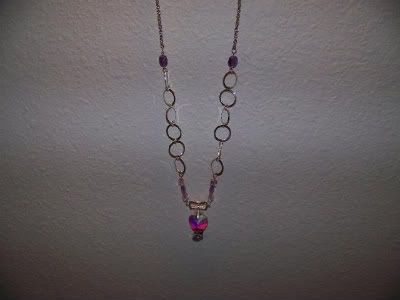 So be honest and tell me what ya think - they aren't Brighton but I can make them a heck of a lot cheaper! Sorry for the poor pics but I wanted to get pics tonite since I'm taking them in tomorrow and the lighting in our apartment isn't the best for taking pics!
OK, off to bed now as it is getting late and I have to get up early for another day of training. Thanks for stoppin' by and happy scrappin'!!!