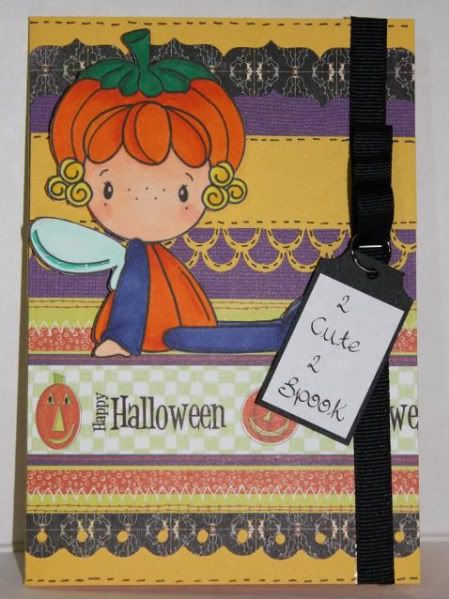 Isn't she just adorable? To me, she really is 2 cute 2 spook! I forgot I had her and when I ran across her in my digi files last night I was so excited that I printed her right away and started coloring! This little cutie is an image from
CC Designs from the Swiss Pixie's Line
and I have adored her forever and forgot I had her - she's never been used before, shame on me!!!
So this card is for the following challenges:
Stamp Something
- Digi Day
Digital Tuesday
- Purple, Yellow & Black
Mojo Monday
- Sketch (I moved the ribbon placement)
A Spoon Full of Sugar
- Boo!
Creative Inspirations
- Spooky (I won here last week....woohoo, so excited!!!)
Crazy 4 Challenges
- Halloween Creations
Ellephantastic Challenges
- Halloween
So, what do you think? Is she really 2 cute 2 spook? Thanks for stoppin by and happy scrappin' - hoping to have a lot more to show you this weekend, we'll see how long my mojo lasts!!!