...............at
The Cuttlebug Spot
!!! This weeks challenge is "Invitations" - any type of invitation you would like!! I chose a cupcake that I cut out using my Cricut and then embossed the "cupcake liner" and the "frosting" while adding a candle cut out with the Birthday Wishes die by Cuttlebug. I added gems to the "frosting" and Stickles to the "candle" for the flame effect. Inside I kept it simple - Party Time and date, time, place. These would be really quick and easy invites for a kids party at school.
My invitation: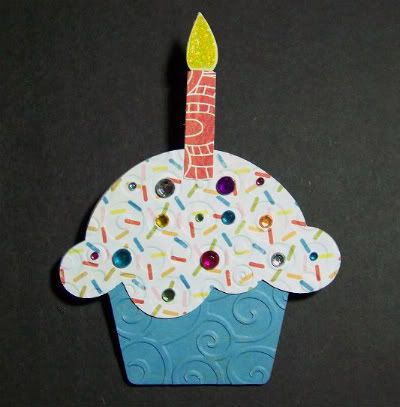 inside:
I started out differently with this but it became so bulky I had to remove a couple layers. I do plan on trying it again later to see if I can figure out how to make it layered and interactive like I wanted but not so bulky it doesn't close - I promise, it was really cool being a flap card opening from several directions but by the time I added the "frosting" and "cupcake liner" on each layer (which was needed to keep the look going) it was so bulky I couldn't close it ------->>>>> :( that is my sad face but never fear, I will try again!!!
Thanks for stoppin' by and happy scrappin'!!!