"....you can't expect me to be neat too!! My creative space could be 10x10 or 25x25, either way it is going to be a mess. For me, part of the creative journey includes pulling everything out to go through and see what sparks the next level of creativity!!! Karen - 2010"
I was stuck last night, not able to sleep and knew i wanted to scrap. Problem was none of the pics I had printed out and had ideas for were working the mojo. I went to the bathroom and came back to my mess and it hit me, the creative journey is the fun part of scrapping for me so scrap my mess. No, I'm not original on this one and others have scrapped their messes before, but this is my journey and my time so I scrapped it!!
Just for fun here's my mess:
Yep, that is what my dining room looks like after about 15 minutes of me sitting down to scrap. Now mind you, part of this mess is my darling daughter's this time around but I can achieve this look on my own as well!!! LOL
In my continuing search for my mojo after taking the pic of my disaster I went on the search for a sketch that would just help me flow. I have been a follower of Pencil Lines for quite some time but have never used any of the sketches..........until now!!! So this LO is based on sketch 171 over at
Pencil Lines
. I've you've never checked them out before I truly recommend them - I am off to find more sketches to use for some of the ideas I have flowing!!!
My LO: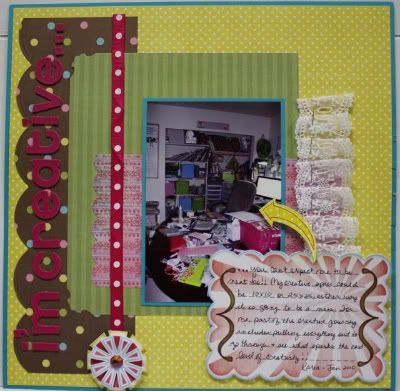 Close up of some of the details, I've seen the ribbon folding done before but never really did it til tonite, I felt this piece of lace just screamed to be folded and then I grabbed the stapler because I wasn't getting my adhesive positioned right or something and just gave up!!!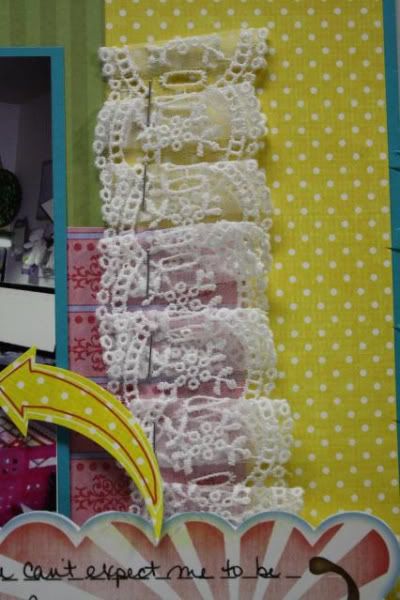 And my flower was made out of two Sassafrass Lass stickers that I put on plain white cardstock so the backs weren't sticky, cut them out and bent the petals this way and that til I got the desired look.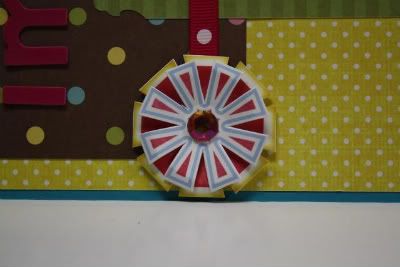 That is all I have to show today but I have 2 layouts sketched out and am off work tomorrow so hopefully I can have a quiet day of just me scrapping!!! But now, I am off to the shower, then to meet a girlfriend for lunch before she goes to class and I go to work!!! Thanks for stoppin' by and happy scrappin'!!!