.................is someone who brings out the Best in You.
Wow, how true is that? A good friend is hard to find so if you have one, take it to heart and appreciate him/her. I think my little PB Hedgie is finding friendship in this little snail!!!
I completed this challenge for the
Penny Black Saturday Challenge blog
- I love my PB stamps but haven't pulled them out much lately. I saw the sketch for this weeks challenge and just lurved it so had to grab a hedgie and create!
My card:
and the Copics used:
And how about a couple pics of my kiddos - today we went school clothes shopping to take advantage of the tax free weekend sales and they made a pretty good haul.
The first is my darling Caitlin - I can not believe that my baby is going to be 18 in less than, oh my, 6 months ***sigh***. It seems like just yesterday she was toddling around following me like a puppy and keeping me on my toes. Well, not so much on my toes anymore as she is a good girl but the time has flown by and it makes me realize she isn't my "little" baby anymore. Oh boy I am queen sappy tonite! LOL So, she decided she wanted a pair of heels to wear and fell in love with these as soon as she saw them. She loves these shoes so much that she wore them from the time we got home until just a bit ago (several hours). I just hope the clutzyness doesn't come out, I'm not ready for another round of a broken leg with her!!!
Cait: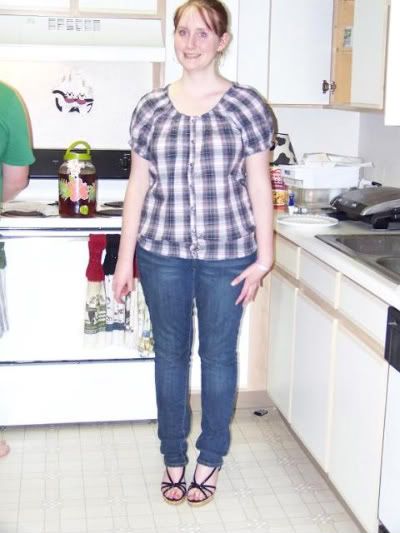 and her shoes:
Now, check out this gorgeously handsome dude. This is my son Dylan - I have been blessed with being his Mom for about 10 years now and remember when I first met him and how small and shy he was. Let's just say he isn't so small OR shy anymore! He and I tend to have our battles but being 2 redheads under one roof it is bound to happen. I am just so proud to be his Mom and hope he realizes how special he is to me............ok, sorry again, getting sappy here. Anywho, his shopping proved to be the most beneficial to him. This shirt (as you'll see in the pic below) was a $30 shirt that he found marked down 90% - yep, 90%!!! He got it for $3 dollars - needless to say he was a bit proud of himself for being thrifty!!!
Dylan:
and his price tag - yes, he made me get a close up to prove it! LOL:
OK, off to work on my final for school that is due Tuesday - I've barely touched it so I need to get my behind busy!!
Thanks for stoppin' by and happy scrappin'!!!