...................to show today. I spent part of the day with a dear friend of mine catching up on things that have been going on in our lives. It was nice to sit and chat.
The kids were out of school so the other part of the day we hung out and did much of nothing!!!
Tuesday will be a busy day for me. I have to take my Mom to the hospital for some tests to be run. I hate driving in Dallas but since my Dad got sent out of town on business I am the only one who can take her - trust me, Dallas does NOT need my Mom trying to drive around up there!!! LOL
I am finishing up the recipe cards for a swap over at Just Scrappin'. These are so much fun to make but I've had to rework them a couple times to find the right image to hold the recipe. I think I have it right this time and will be cranking them out this week!!!
Tell me what you think: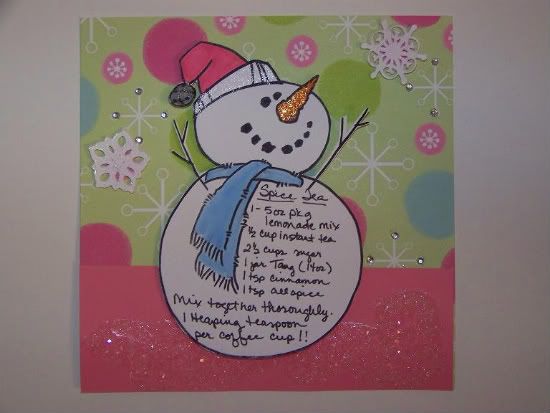 I used Diamond Dust for the snow effect on the "ground" - yeah, I know the ground isn't pink but this is my world so it can be whatever color I want..........LOL. I tried flocking (get your mind out of the gutter), T!m Holtz Distressing Crackle Paint and glitter and the Diamond Dust seems to work the best. What do you think??
OK, off to bed. Have to get up early to head down to pick up my Mom, drive to Dallas, drive her back home then drive myself back to Springtown.
Happy Scrappin'!!!!!