.........................thing done this weekend!!! My intetnions were to get lots accomplished scrappy wise but yeah, that didn't happen!!!! But, I did manage to finish this one layout today for the crop over at
Just Scrappin'
by using a sketch challenge posted by
Becky Fleck over at the PageMaps blog.
The challenge at JS was to scrap a LO using a page from a book/magazine. I thought about this one for a while and didn't really have any books that I would want to tear a page out of and then the thought of ripping a page out of one of my scrappy magazines sent shudders through me (ROFL). I did remember having some old cookbooks that I know I have not used in close to 10 years that I bought at the dollar store years ago and realized that the pictures of the recent baking of friendship bread would go great with a page from a recipe book. I'm not overly thrilled with this page but it is growing on me. It is really simple - I kept trying to put more into it but nothing felt right so I decided to just leave it alone. Here are a few pics - the first two were with the help of my wonderful scrappy advisor Ms. Snow - for some reason she thinks as soon as the photo box comes out she is supposed to jump in it!!!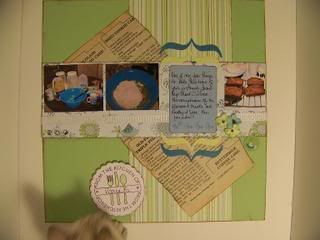 Materials List:
CS = Prism
PP, Brackets, Journaling Box = SEI
Jewel Brads = Paper Studio
From the Kitchen of Stamp = Stampendous
Ribbon = Misc From Stash
Flowers = Prima
Thanks for stoppin' by!!!
Happy Scrappin'!!!