Well, 15 years later I finally get to scrappin' Cait's first birthday!!! LOL I'm just a little behind but hey, I don't scrap in chronological order - heck I don't scrap in any type of order so better late than never. I did the layout as another challenge from the crop that is winding down over at Just Scrappin'. This layout is doing double duty - something I hate to do - for Ashley's sketch challenge and Tracy's bling challenge.
Thanks for looking!!!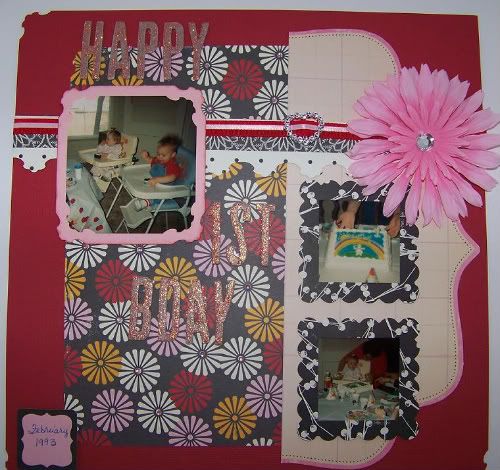 Off to work on a couple more layouts and see if I can get them done tonite. If not I will still finish them up but just won't be eligible for any prizes which is OK by me, I just like the inspiration to scrap too!!!
I also gotta get a cake figured out for Dyl's birthday this weekend, his scrapbook page made for it and find that darn recipe for margarita pie - the boy said forget the birthday cake (which I am refusing to forget the birthday cake) just give him margarita pie and he'll be happy!!! What a silly boy!!! He has grown up so much in the last couple years that the 9 years that I have been in his life have been kind of a blur!!! I am just so darn proud of the young man he has become and I am very blessed to have him as a son.
I'll make sure I share pictures early next week!!!
Happy Scrappin'!!!