Tonite at
Just Scrappin'
we had our first ever 1 hour layout challenge!!! Cristal posted an awesome sketch and we had 1 hour to work from it and get up loaded to have a chance at winning a scrappy prize. Well, anyone who knows me knows that I procrastinate for at least an hour before I ever start scrapping typically - not tonite!!! I finished a LO in 58 minutes flat and had it uploaded within 5 minutes after that - how cool is that??? So from now on when I sit down to scrap I am gonna grab me a sketch, set the timer and go!!!!
The layout I created was using Cosmo Cricket patterned papers and Bazzill cardstock along with buttons from my stash. I used a lot of pop dots to give a little dimension and believe it or not, that is it!!! No flowers, no ribbon, no stickles, no gems - paper, buttons and cardstock!!!! Oh yeah, remind me next time I do a 1 hour challenge to NOT choose to hand cut so much stuff!!! LOL
Here is my layout:
The journaling reads:
I absolutely love this picture of you two!! You were such great friends even at such a young age. I know memories of Tyler have faded since then but I sure miss the little guy! I know for a long time after he left us you still ran around calling out for him!!!
Then in the little cog looking thing is says Caitlin & Tyler, June 1993.
A little history about this picture:
Tyler was one of my best friends from high school's (Julie) son. He was born in August of 1991 and Cait was born in Feb of 1992 - they were 6 months apart in age but you would have never guessed it by the way they acted. They were the best of buddies - even at such a young age they were very close. Tyler was Cait's best friend and her protector - you didn't get near her without him next to her to make sure she was OK. In this picture Julie and Tyler had come out for my birthday in June of 1993, just a month before Tyler's baby sister Shelby was born. Tyler was bound and determined to give Cait smooches and as girls go, she was trying to be coy with him!!! LOL In August of 1993 Tyler turned 2 and then tragically in December of 1993 we lost him in a drowning accident at the babysitter's house. Caitlin and Tyler were so close that for months after his passing she would run around calling out for him and she even freaked my Mom and I out one night by sitting in her room and having an argument over their favorite (the red big bird wind up radio) toy with "him" while no one but her was in the room. As of today Cait and Shel are friends and if Ty were still around he'd be the protector for both of them!!!!
On a much brighter note, I finished the inspire me challenge posted by Sandra. She wanted us to alter a notebook or something that we could use for inspiration. In my attempts to be more organized this year I decided to make a holiday planner . I have everything mapped out to finish it up except the stamp block I have is too small for the calendar stamp I want to use. I think I have found a solution but won't work with it til tomorrow or next week when I have the house to myself again!!! I think I am going to try a CD case and hopefully that will work - if not, off to Hobby Lobby or Michael's to get one of the larger clear blocks. Anywho, in my planner I am going to have sections for Christmas cards/addresses, menus/recipes, etc. I will share it when I finish it but til then, here is a picture of the binder I made. I didn't put a year on the front as I had originally planned as I am thinking about laminating the pages and using dry erase markers to put the days on the calendars and check off the things in lists and then erase and reuse next year!!!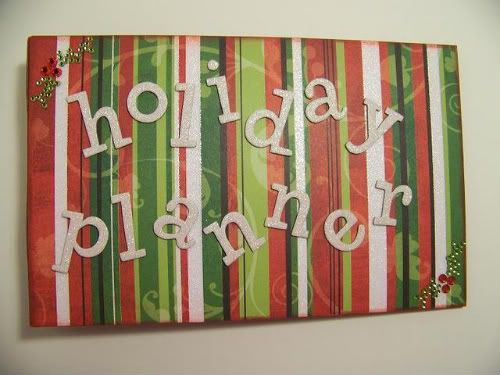 Thanks for stopping by and hope your week is going well. I'm out of here for the night as I think I caught a stomach bug yesterday as I have been very sick since last night. I need to get some rest because our son will be turning the big 16 this weekend and I have a birthday cake to make (he requested a margarita pie tonite so maybe I'll spoil him and make that too) and I still have birthday shopping to do. At 16 it is hard to figure out what to buy him. Our kids are very blessed and have most of what they could ever ask for - with the exception of a car and yeah, think again.....LOL.
Happy Scrappin'!!!!