...........at it's best!!!
Well, I am in two swaps at Just Scrappin' - Christmas Recipe Swap and Altered Christmas Gift Tag Swap. Well they are both going on simultaneously and I got just a little bit confused........well, OK a lot confused. I was thinking the recipe swap was due on the 20th and the tags were due on the 31st - yeah, NO!!! I had it backwards - I even wrote it down on my dry erase board backwards!!! So, my recipe cards have been done and packaged up and on their way but my tags, well, I'm in the dog house and running behind.
So the recipe cards have been done and are on their way to Jenny to perform the swap nice and early but.........I am trying to finish up my tags!!! Aymee is going to kill me but hopefully she'll have mercy on me because I can come up with a TON of excuses and stressors that are going on right now!!!! So I tried finishing up the last 5 today so I could get them in the mail. Actually I tried to do them this evening because I spent today working on my expository essay for school. Of course it was after all the stores are closed when I realized my cutting pads for my Sizzix are just so worn out and totally unusable - they are leaving indents of previous cuts on my current cuts!!! GGGGRRRRR. I was sure I had another set so I went on the hunt - NOPE - I have another cutting platform but the pads didn't come with it - why would you sell a platform with no pads????? So, tomorrow I have to get up early and run to JoAnn's to pick up new pads so I can finish them.
I did want to give you a sneak peek though of 4 of them - these are my favs but I am thinking the last 5 I am working on will replace these but we'll see!!!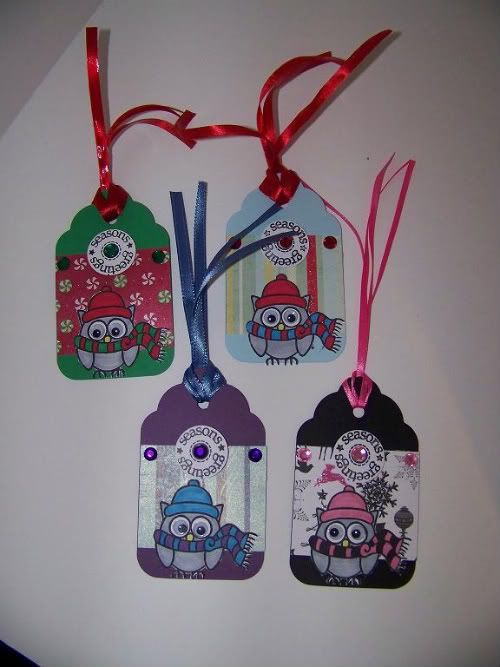 I have others finished but don't want to spoil all the surprises for my swap girls!!!
In other news........................
.................I've been asked to be a guest Card DT member at a site for the month of November. I am really excited and honored to get to do this!!! I am not sure if I can spill the beans just yet but as soon as I know when I can I will most def share!!!
I also was asked to write a few scrappy articles reviewing products or giving how to's on products to be published for a scrapbook store website. The best part - if they like my first article and they publish it I will get paid and then ask to contribute additional articles for pay!!! I guess my writing classes in college are going to pay off finally because the type of essay we are focusing on in this class is an expository essay which is just facts - no opinions - just cold, hard facts about the topic. I did have to complete my thesis today and am I feeling the pressure!!! I am a decent writer when I want to be but when I have rules and techniques that I must follow - well, I stress!!!
I believe that is all I have to show tonite!!! Have a great day and scrappy dreams!!!
Happy Scrappin'!!!