Tonite I've been indulging in a mini crop at my favorite scrapbooking site on the web. Yep, you know where that is and I still don't understand why you are not there playing with us!!! The 1 hour layout challenge is just about to come to an end but there are still 2 other challenges that can be completed by midnight tonight so get over to
Just Scrappin'
and find out what all the fuss is about!!!
So on to my challenge posts!!!
The first challenge was to incorporate cardboard into your layout in any manner. I decided to get outside my box and go distressed!!! I used my distresser on the pictures and on the papers and I got the sandpaper out after the cardboard. The pics are of my first Thanksgiving and the people are my grandparents in two of them and my Mom in the other trying to feed me.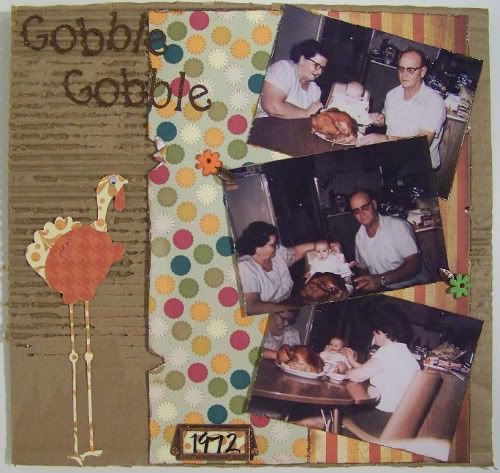 The title on this page is oddly enough: Gobble Gobble
Materials List:
Materials List:
PP's = Fiskars & MAMBI
Cricut Cart = Stretch Your Imagination & Alphalicious
Photo Turns = Paper Studio
Book Tag = Paper Studio
Small Flowers = Stash (Treasured Scrapbooking Kit so I don't know MFG, wish I did)
Stickles = Cinnamon
The next challenge was the 1 hour layout challenge. A sketch was provided and we had, yes you guessed it, 1 hour to complete the challenge and get it uploaded.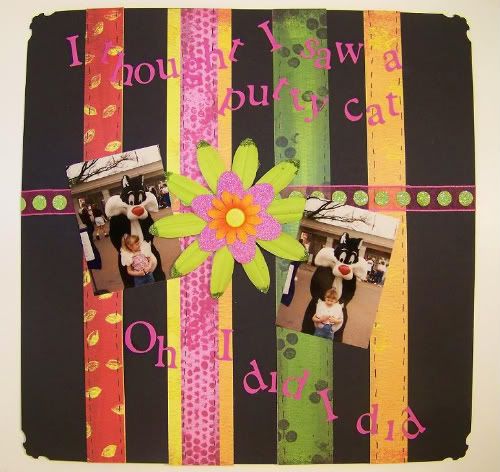 The title is: I thought I saw a putty tat, Oh I did I did
This popped into my head when I found these pictures because in the first picture when Sylvester goes to put his hand on her shoulder she has the most indignant look like what the heck do you think you are doing on her face. It totally cracked me up and I just knew I had to do this title. Now as always I push myself because I only had an hour to get this done and the first 30 minutes were spent trying to put out some drama fire - you know who you are and it isn't working, get over it and move on!!! Sorry, but I had to say it. Anywho, I wasn't fond of this layout at first but it is growing on me the more I look at it.
Materials List:
CS = Bazzill
PP = Dream Street Papers Quilted Garden Diva's Stitch
Flowers = Green Heidi Swapp, Orange Prima, Pink Doodlebug Designs
Brad = From stash, not sure mfg.
Ribbon = From stash, not sure mfg.
The third challenge to complete by midnight is to make a card from a sketch provided or lift from a card provided or both. I am not sure if I will get these done tonite or not - I am gonna try but my head is killing me right now.
We had fun - hope you stop in and see what we are all about soon!!!
Happy Scrappin'!!!