OK, my DT card for October 2nd has been revealed!!!
You can check out the sketches along with my card and the rest of the DT at
Am I A Scrap Addict - Sketches
right now!!! I was assigned the 2nd sketch so scroll down just a little and I am the first card posted!!!!
If you use either of these sketches and link it back to the post at Am I A Scrap Addict - Sketches AND to this post on my blog by 10/15 (the next reveal is on 10/16) I will put your name in the hat for a RAK of a Cosmo Cricket Blackboard Book. I will post a picture of the one I have up for grabs in a bit!!!
PS When you link back to the post at AM I A SCRAP ADDICT - SKETCHES make sure you mention that you are posting in response to a RAK challenge I posted if you don't mind.
I will post my card here later when I post the RAK prize!!!
Happy Scrappin!!!
***UPDATED***
Here is a photo of the card: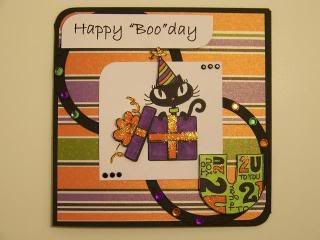 And here is a pic of the blog prize I am giving away!!!!
Of course the one up for grabs is unopened!!! The album comes with 6 pages and one ring to secure them with!!!