This layout was quite fun to do!!! I love to cut and add dimension so this one thrilled me. It took me forever to do though with all the cutting and stickling but I feel it was well worth it - what do you think??
Here are the papers before I started cutting on them:
Here is the finished layout:
And here are some close ups of some of the detail: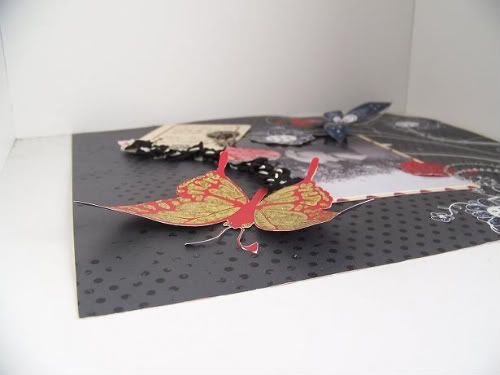 OK what looks green is really Crystal stickles that for some reason picked up the green hue when I took the pics. I tried several angles and the same each time.
Materials List:
Stickles = Crystal & Xmas Red
Gems = Prima
PP = Cherry Arte
Journaling Block = Teresa Collins
Heart = Grungeboard painted w/ MM White & Distressed w/Tim Holtz Fired Brick & Tea Dye Distressing Inks
Chain & Charm = Tim Holtz
Ribbon = Misc from Stash
I did finish another card but it won't be revealed until the 11/2 so be on the lookout for a card reveal on 11/2 for my DT assignment at Am I A Scrap Addict - Sketeches and then the other reveal on 11/22 for my guest DT for the month of November!!!
Off to work on another layout!!!
Happy Scrappin'!!