The weekend was a long time coming but way too short I tell ya!!! Rob and I celebrated our 6th wedding anniversary yesterday. It has been an amazing 6 years of wedded bliss!!! I can't wait til we hit the 60 year mark!!!
On Friday we were trying to figure out what to do for our anniversary on a budget. We decided we were going to just cook dinner together and have a family sit down dinner. On Saturday morning our plans were changed as my parents called and asked if we would come down for the weekend. They ended up taking us out to dinner at the local cafe - which by the way is no cafe, it is an awesome restaraunt!!! Everyone had the chicken fried steak except me and I had chicken fingers. It was a great dinner and I was so thankful for them for asking us down JUST to take us out. We had a great evening afterwards as well. Knowing my parents go to bed early we planned to go to the drive in down there. We went with some friends of mine and they chose the movies - remidn me to NOT let them do that again!!! LOL We saw Beverly Hills Chihuahua and WallE - BHC wasn't so bad but I was ready to shoot myself watching WallE!!! I really don't know what anyone saw in that movie - maybe it is just me and Rob and Cait and Dylan (LOL) - but it was the worst movie I've seen in a long time!!!
On Sunday we came back home and Rob was the sweetest thing ever!!! We usually go to fondue for our anniversary every year - I love it - but this year we had to scale back with all the changes in the last couple months. So we got home and I came to check in on my classes and he told me to stay in my room until he came to get me. He made me fondue!!! Yep, you read that right!!! Rob made ME fondue!!! Usually it is me making the fondue at home but he made the most awesome cheddar fondue I have ever had!!! I am not just saying that either - it was so delicious!!! I told him now I want HIM to make the fondue all the time!!! LOL
I did manage to finish up a layout last night. I based this layout on a sketch challenge at Just Scrappin'. The pictures used are not the best quality as I scanned them from old Polaroid shots. When I say old, yes, I mean old. The Polaroid shots are about 35 years old and of me!!! The lady in the one is my grandmother. These pics were taken when they gave me my first pancake to eat all by myself!!! It looks tasty and like I had some fun!!!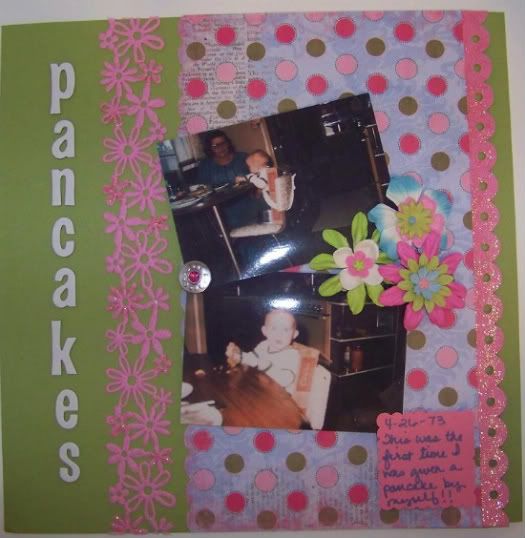 Materials List:
PP = Pink Paislee Pop Fashion Collection
CS = Bazzill
Felt Strip = Kaiser
Border Strip = Bazzill
Flowers = Prima
Brads = Heidi Swapp
Thickers = American Crafts
Stickles = Fruit Punch
Large Button = We R Memory Keepers
Tonite I have started my new term at school with taking another writing class - we all know how much I hate to write....LOL - and my Medical Terminology class. I hope to keep my 4.0 GPA going so lots of studying will be going on and most likely a little less scrappy time!!!
Class is just starting so I best get off here and get into class!!!
Happy Scrappin'!!!!