Not like I have the busiest of schedules ya know, but there is just something about Fridays!!! The kids will be out of school for the weekend which always thrills me!!! I love hanging out with my kids. I know one day they aren't gonna want to hang out with "the parents" so I take advantage of it while I can.
This weekend is mine and Rob's 6th wedding anniversary. Granted we've been together a little over 9 years but we finally tied the knot 6 years ago as of the 19th. It has been a great and rewarding although sometimes adventurous 6 years but I wouldn't trade it for anything!! He is my true love, soul mate and man of my dreams - yeah, mushy I know but it's true!!!
Last night I finished up all the recipes cards for the swap at Just Scrappin'. You can see the sample one from a post a few days ago
here.
My original intentions were to use this darling QuicKutz penguin die I had but his belly wasn't big enough for the recipe so I switched out to the build a snowman from Stampendous. I like how they turned out - sure hope my swap group does as well!!!
I had a card featured with a couple ladies yesterday over at the
Pink Cat Studios Blog
which naturally thrilled me to death. Then this morning I woke up to yet ANOTHER card posted!!! It is one of my fav in a while and was made with my sister in law in mind because she is a Halloween baby!!! I wonder if she gets tired of the Halloween/birthday cards each year???
Last year I made her this one: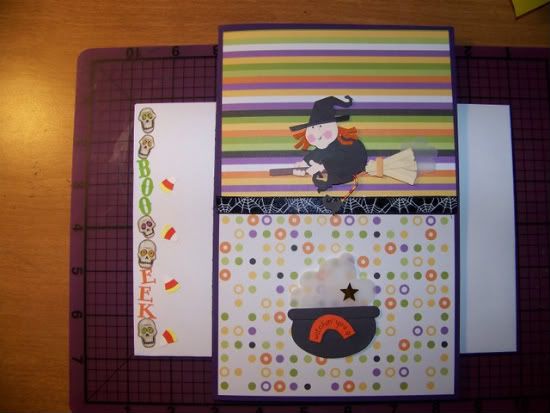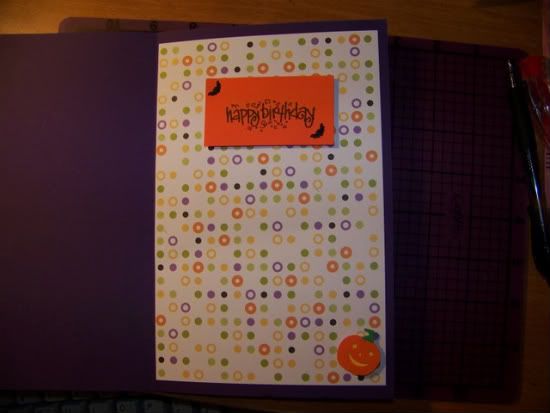 The front of the cauldron says: "Witchin' You a.........." And then inside of course it says "Happy Birthday"
I think our weekend is gonna be pretty calm as we have NO plans for once!!! I was supposed to go to a crop tonite but just don't feel up to it so I am cancelling. Maybe in a couple weeks but I'm really tired today and not feeling myself. Hopefully after a nap this afternoon I will feel a little better and we can play some Rock Band or Guitar Hero this evening and through the weekend.
I do have a couple projects on my list that I want to tackle scrap wise. I need to finish up my tags for a swap I am in and then finish up Dylan's 16th birthday LO and do some Christmas cards for the challenges over at
Christmas Cards All Year Round
- if you haven't checked it out you should. Some great inspiration for getting your cards ready for the holidays!!!
Happy Scrappin'!!!