...................and no posts from me!!! Well, let's see...................Last Wednesday morning I woke up with a migraine and a sick kiddo. Yep, Cait had strept throat AGAIN!!! Took her to the doc for RX and for an RX for that migraine of mine - it was worse than I ever remember having one. I finally woke up yesterday, Sunday that is (yeah I know you can figure it out but I'm trying to emphasize the number of days I had that blasted migraine) and it was gone! I've had a mild sinus headache today due to allergies but NOTHING like the migraine I was living with for 4 days!!!
On Saturday I ventured out - headache and all - to a Copic class. I've had these fabulous markers since mid 2008 and didn't know how to fully utilize them with the blending and such. I have tried, and at times I do OK but I wanted to really learn how to use them to make yummy cards like some I see on the internet. I met
Jen Del Muro
, who was our class instructor for the day, and learned some great techniques that will hopefully let me use my Copics much better - I know my images haven't been horrible. I was looking for a way to reduce how flat they look - give them more depth and a realistic feel (well, as realistic as a stamped hedgehog can be).
We made three cards in the class. The first two are very simple and you don't really see a lot of blending/graduation of color but they were fun and the covered the basics. After those we took a break then came back for a more advanced look at blending. The third card, which is my fav of the 3, uses the 2 and 3 color blending and I just love it - well, except for my splotchiness on the vase but eh, I am working on that!!!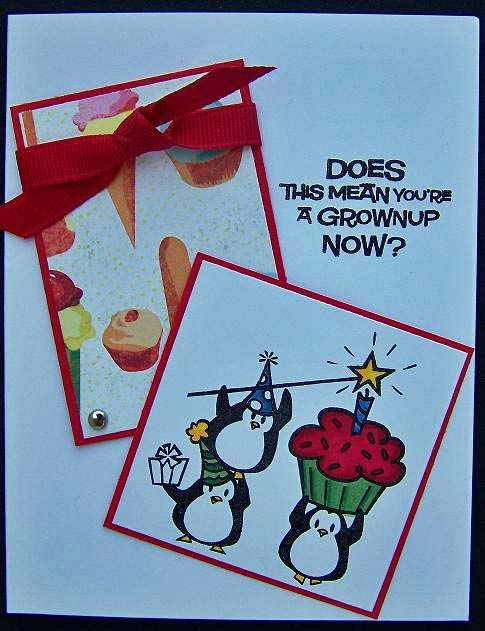 My first attempt at blending is with this card. I took a lot of time on it even though it isn't perfect. I focused on the tires and the jeep for the color graduation this time. I don't want to overdo it with the blending and such on the images especially since I am learning. I figure if I try to do an entire image I'll end up wasting paper because I know I will make little mistakes and then end up trashing the whole thing. So, Jeepy Girl by Stamping Bella was my first venture at using my Copics in a new way.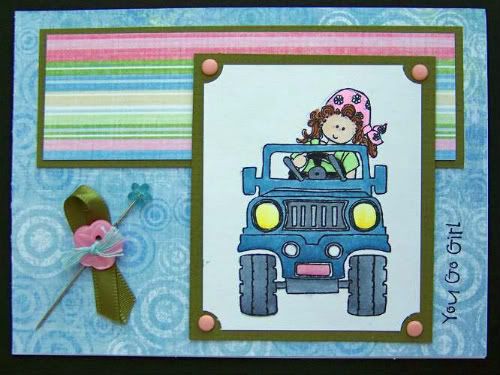 I also used a sketch by
Jen Del Muro
- check out her blog for her Saturday sketch challenges.
Thanks for stopping by and happy scrappin!!!!