Hi all!!! Hope everyone's start of the weekend is going well!!! I am planning on scrapping ALL, yes ALL weekend if I get my way - I don't usually but it is a good plan to start out my Friday night with!!
So, I'm playing at the
Women in History crop over at Treasured Scrapbooking
, if you are not a member you should totally come over and join in on the fun. The challenges are fabulous and the members are great - not to mention Leslie, the owner who is amazing!!!
The first challenge I've completed is a history lesson about Ella Fitgerald. She was an amazingly talented woman. The challenge by Shirley was to scrap a LO and use a title of one of Ella's song. Well, I am using Black Coffee because it fit so perfectly with this pic I have of my daughter from the morning of my friends wedding.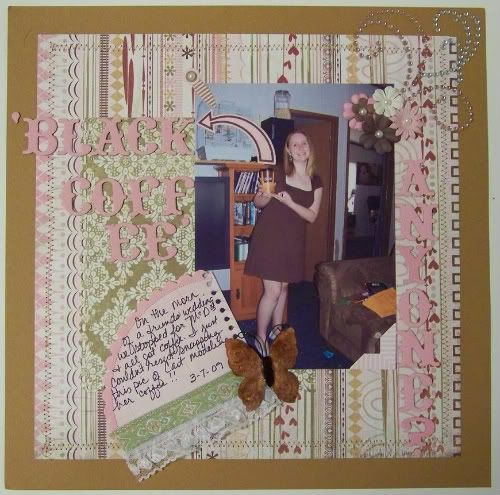 Thanks for stopping by and happy scrappin' - I'm sure there will be more posts tonite and throughout the weekend!!!