Another one for the
Treasured Scrapbooking Crop
!!!
The challenge was in honor of Betsy Ross and we could ONLY use red/white/blue - no other colors. I dug through all my papers and the best I could do for a LO was red/blue/cream.........uuuggghhhhh, not gonna work. So, I saw others did cards and altered items so I took a cue from
Kim
, who is also on the DT at
Am I A Scrap Addict - Sketches
with how she DIDN'T color in all of the Bella stamp she used. I really loved this when I first saw it and made a mental note that at some point in time I should do this but tonite while trying to figure out this challenge it came to me!!!
So, I stamped my Bella girl in Blazing Red StazOn ink, colored her top/bags with my Garnet Copic, used Frosted Lace Stickles on her "smile" and pants (hard to see in the picture) and then layered her on navy cardstock, onto red/white dotted Scenic Route patterned paper and then onto a navy blue card base and applied a white felt "smile" to the card along with 3 navy blue flowers I made and topped off with pearl bling!!!
Hope you like it!!!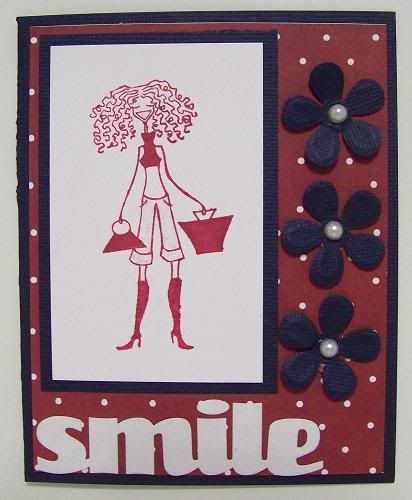 Thanks for stopping by and happy scrappin'!!!!