I got a layout done tonite too!!! Go me!!!
The title of the layout is "Shape of Me and Other Things" which is the title of a Dr. Seuss book. Julie over at
Treasured Scrapbooking
challenged us to use a title of one of his books for our layout. I also used this to complete 2 other challenges - yep, triple duty. I did it for my All About Me challenge/book we have been working on at
Just Scrappin'
and the sketch challenge at
Pencil Lines
- which by the way was the first time I played at Pencil Lines but I totally loved the sketch!!!
So, I'll stop yappin' and let you see what I did - now keep in mind, I don't typically use yellow on layouts (or cards to think of it) and I decided this month for my AAM LO I wanted to challenge myself to use yellow. My secret swap sister, Rox-Ann, hooked me up quite well don't ya think? Most of the stuff on the layout was in my package this month - I think the little felt flower, the butterfly w/gems and journaling strips were the only things I provided!!! OK, OK I'm shooshing!!!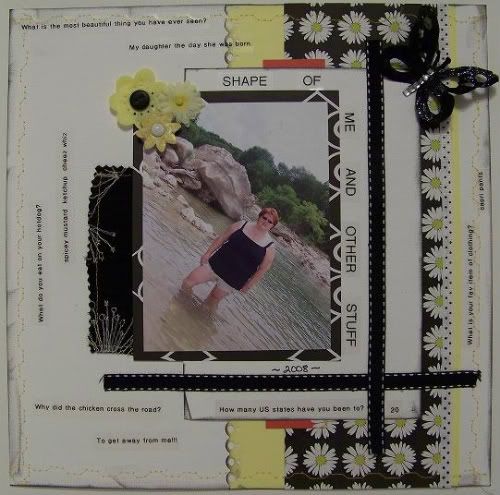 Tell me what you think - yes, no, maybe so, don't ever scrap again Karen - be honest, I can take it!!!
Thanks for stoppin' by and happy scrappin'!!!!!