OK, again with the auto post - I'm digging that feature for my blog entries!!! It's great to type this up several days in advance for multiple reasons: a.) I don't forget to post and b.) It gives me time to revise and edit it catching any little blurbs I may have in my post.
Let's see what has gone on in my crazy life this past week: Monday I had some blood work and testing done trying to find out if there are underlying causes with my back pain (not that the degenerative disc disease isn't enough) not to mention the doctor is thinking I may have fibromyalgia. Tuesday went to work, tired as heck but figured nothing new as the last two weeks I've been totally run down, was told I could go full time which will help tremendously on us getting caught up from being out of work for almost a year then a 700+ mile move for a better life w/hubby getting an amazing opportunity with the government. Wednesday woke up not feeling so great again (the Thursday prior I was feeling like this) and ended up going to the doctor to be told I have the flu - YIPPEE!!! At least it was not the H1N1 though Albuquerque has had quite a few cases going around. Around 1:30 a.m. Thursday hubby wakes me up with chest pains and asks to go to the hospital - he was admitted around 4 a.m. and wasn't released until Friday mid day w/a follow up appointment with the cardiologist this coming Wednesday since all the testing in the hospital was inconclusive. Saturday and Sunday roll around and I'm still tired (worn out actually) but feeling better although the Tamiflu makes my tummy hurt and feel like I wanna pah-yuke!!! UGH!!!
Today is Monday, I will be heading back to work and hopefully feeling back to normal this week - I'm tired of being sick and tired!!!
Today, October 19th is also mine and Rob's anniversary!! Happy Anniversary to us - I know he won't read this cuz he never does but I will let you guys in on a little secret: Rob is an amazing man, husband and father. I am truly blessed to have him as my husband and in my life. He means the world to me and I would be lost without him - trust me, this past week freaked me out!!! So to my darling husband, I love you more than you will ever know and thank you for being in my life!!!
OK, enough with the mushy stuff!!!
Monday also brings around my DT reveal for The Cuttlebug Spot!!! This week our challenge is:
Boo : Halloween Candy containers, wrappers, etc
I started out making one container, got it almost finished and then it dawned on em - I didn't use my Cuttlebug at all on the project!! DOH!!! Luckily I needed it for another reveal on Thursday where I am guest DT'ng at Cute Card Thursday so keep your eyes peeled for that!
Anywho, I digress (so easily sometimes)!!! My container for my project this week was really fun to make!!! I saw it on a blog somewhere (I'm sorry, with all that has gone on the last week I don't remember which one) and so I went searching for it again because I thought it was too cute. I found a tutorial for something really similar to what I saw on SCS so I used that but tweaked it just a bit to suit my needs but, you can find the tutorial for
Pumpkin Patch Peeps here!!!
I started out with this mini pot, some scalloped ovals (about 10 if I remember right) and a replica of the Top Notch die (need 4 of these) from SU that I cut out with SCAL, Swiss Dots/Divine Swirls Embossing Folders: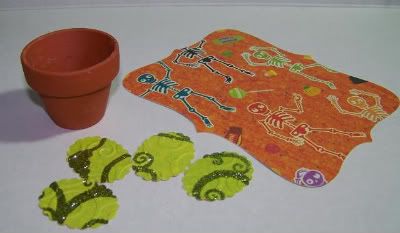 And assembled with candy corn, a pumpkin peep and a ghost peep: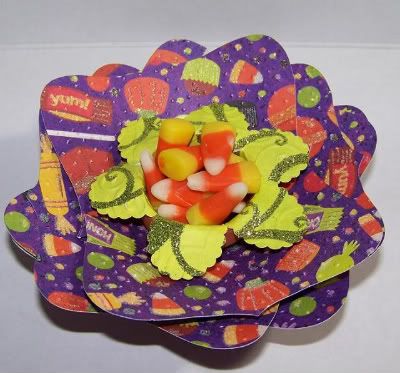 and a side view with the candy corn:
What do you think? I'm already cooking up a couple ideas for Thanksgiving and Christmas using this little holder - just need to find the time to get it done!!!
Well, I think I've yapped enough for this post. As always I thank you for stoppin' by and love to hear from you all! Happy scrappin' and keep your fingers crossed for good results Wednesday and for life to resume its happy course!!!