This week at Charisma Cardz we were challenged to decoupage. Now, I don't know much about the art of decoupage but what I do know involves paper and a basic glue mixture applied over it to protect it. So my choice was this cute little butterfly that I've had sitting around for a while. I've wanted to do something with it but never had the right idea until I was digging around looking for something to work on ( I really enough stuff so don't know why I was having such a hard time finding something). I saw the butterfly then I saw the K&Co. stickers and voila! I decoupaged the butterfly to protect it so it can be hung in a babies room - I'm thinking of sending to my niece for her little girl.
My butterfly: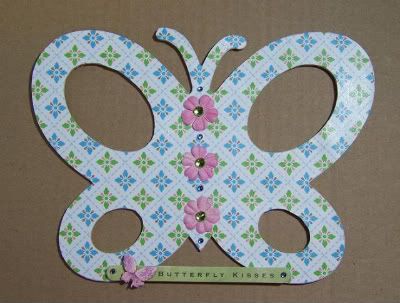 Thanks for stopping by and happy scrappin'!!!
PS Sorry I haven't been real active lately, a lot has been going on and life has been hectic not to mention some let downs when I was led on by someone this past summer so I am taking a little break other than DT work.