The week at
The Cuttlebug Spot
we are focusing on pink in honor of October being Breast Cancer Awareness month. I'm kind of a dope I admit, I saw the part about Breast Cancer Awareness when Nilda mailed out our schedules but little did I read the part about pink..............I got so excited and knew I had to use my Bella that I totally overlooked that minor detail! So, I did use a little pink on there but the main focus is, of course, Breast Cancer Awareness. I admit I have taken for granted that my "girls" have always been healthy until I recently met this lovely young woman who I have developed a bit of a friendship with and she is going through chemo and radiation for breast cancer. Her will and strength make me admire her so much because she is very young (early 20's) and has such an amazing attitude about it. I don't know if she will ever understand how her strength and attitude have impacted me but maybe some day I can let her know!
Anywho, my card: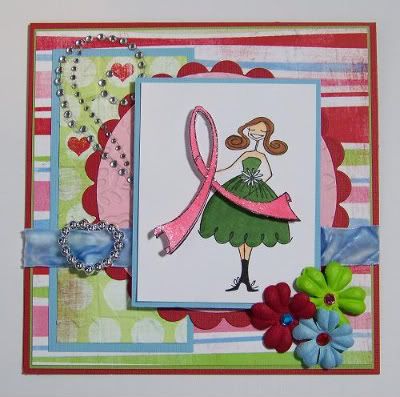 And Copics used:
I used the sketch this week over at
Friday Sketchers
for my inspiration!
After typing this up, I think I might just write a little note in this card to let her know how much she has impacted my life and give it to her - think she'll like the card?
Thanks for stoppin' by and happy scrappin'!!!