It's been a nice, quiet and productive day today and I'm loving it! Cait and I went to WalMart to pick up a few groceries then home to spend the day scrapping together!!! I've managed to get two of my DT cards finished and then one card just for fun done that covers a few challenges and is for a good cause!!
This card was inspired by the sketch over at
Sunday Sketch & Stamp
,
Line's Extra Bonus Fun
,
Priscilla's Blog Candy Chance by sending the card in to donate to cards for cancer patients
,
Simon Says Challenge of All That Sparkles
and ABC
Challenge Blog using F for Flying
- now I know Tilda isn't flying in this card but she has wings which are used for flying and the hearts she is blowing into the breeze are flying so.........that is my take on flying for today!! LOL
My card:
And the inside (yeah I rarely do insides but since it is for a good cause I took a few minutes extra...LOL):
and Copics used: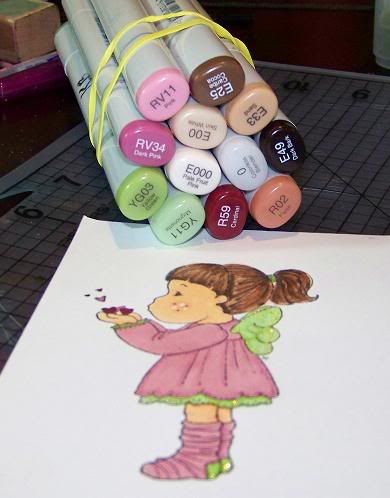 OK, off to watch a movie with the family while we eat dinner then back to finish up my last DT card. I also have an essay to finish up for class by Tuesday so wish me luck............LOL
Thanks for stoppin' by and happy scrappin'!!!