The witching hour is getting near and
The Cuttlebug Spot
is helping to celebrate Halloween this week with projects featuring the theme Halloween and colors purple, green and black as the main colors!!!
Before you ask me how many more times I am gonna use Tilda w/Ladybug I will answer you - A LOT!! She is one of my few and favorite Tilda's and definitely the most versatile stamp I have right now as I can plop just about anything on top of the ladybug and voila - plus I'm still on a spending freeze (no end in sight) so until Rob lifts that I won't be getting any new girls...........LOL
I once again chose to pop a pumpkin in Tilda's hand to make her just right for this project. I also chose my new favorite style of card - the easel card! This card was a lot of fun to make and easy as I used the sketch over at
Friday Sketcher's
again this week to get me started. The papers are from Basic Grey's new Eerie collection (I literally scrounged quarters to buy the 6x6 pad....LOL) and I used the Moroccan Screen and D'vine Swirls Cuttlebug folders to emboss the layered pieces (even though you can't hardly tell from the pic).
My card:
Copics used: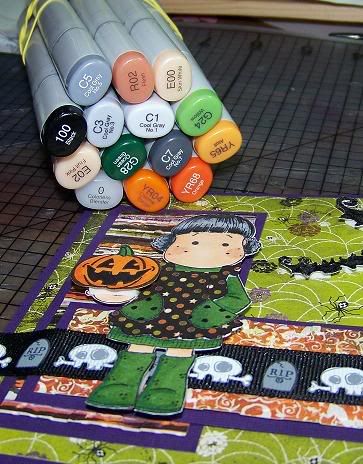 So what do you think? I hope you all join us at
The Cuttlebug Spot
this week as I'd love to see your creations!!
As for personal - let's see: Rob is feeling better. He went to the cardiologist this week and they haven't figured out what has hospitalized him twice this year with severe chest pains but they are working on his cholesterol and keeping an eye on things. The one great thing is that his heart is strong and there are no signs of anything going wrong there. As for me, I'm definitely feeling better after my bout with the flu and strept throat within what, a weeks time right? I went back to working part time until after my appointment with the rhuematologist on November 11 to see what it is that I can do and not do. The kids are doing great and Cait got a job so she is thrilled. Now for Dylan to get one and things will be even better as it will get them both out of the house for a bit each day!!!
Thanks to everyone who has sent messages wishing us well - they are greatly appreciated!
As always, thanks for stopping by and happy scrappin'!!!