Hi all!!! I was asked to guest DT at
Cute Card Thursday
this week and next and am so honored and thrilled to play along with them!!! Our challenge this week was Candy Corn (or sweets themed projects). I have utilized my little Magnolia Tilda w/Ladybug once again by popping a pumpkin on her hand to cover the ladybug to make her a Halloween themed image this week (last week she was a Christmas image and her normal ladybug self......lol). I really love this image because she is really just so versatile but don't think I'm not NEEDING more images just gotta wait a little longer before I can indulge myself!!!
Anywho, my project for
Cute Card Thursday
isn't a card but a treat bag for Halloween treats!!! I would just love to take credit for this little bag but I got the idea from Diana Gibbs over at the SCS galleries and followed her tutorial for the
Box In A Bag
to make it - this is a very simple bag making it quick and easy to make!!!
My treat bag: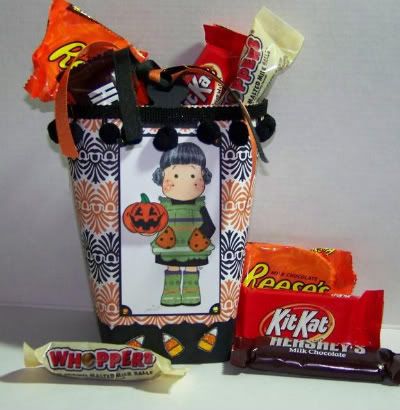 and Copics used:
This little bag is also used for two additional entries: Paper Garden Projects Design Team Call and my DT submission for
Charisma Cardz
. Each month Carly hosts a challenge for the DT and this month she is looking for favor boxes for her upcoming wedding in 2010. I thought this little treat box would be versatile enough to use as you can change the size and it would easily hold whatever you needed with the open top.
I'm really digging these little bags so I plan on using them for more real soon - I have so many ideas on how I can transform them by using punches and much more!!!
Thanks for stoppin' by and happy scrappin' - and if you make one of the Bag In A Box treat bags I'd love to see it!!!