This card reflects what summer typically meant to me growing up. My parents owned a cabin on Lake Tawokani in Texas and we would pack up just about every Friday night and drive the hour to the cabin and spend the weekend. On holiday weekends my dear, departed cousin David and I would sit on the wooden fence that surrounded the cabin my parents owned and the cabin his parents owned and we'd watch the fireworks being shot off over the lake and at times, we'd get to shoot them off in the dirt road in front of our cabins. Sweet memories that I wish I could still share with him but he fought cancer and lost the battle in '99 at a young 30 years old. So this card is for him.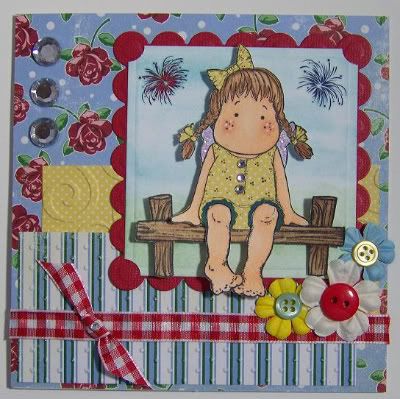 I used this card for four challenges:
Charisma Cards
(I start the DT this week woohoo) - Use buttons!
ABC Challenges
- U is for United States - use red/white/blue, stars and stripes, etc. This is also for the DT tryout.
Magnolia Down Under Challenges
- Magnolia stamp and the posted sketch.
2 Red Bananas
- Patriotic!
I hope you like. Thanks for stoppin' by and happy scrappin'!!!