Hi all!!! As the Bangles would sing.............."It's just another Manic Monday"...........yep, this weekend flew by so fast and I accomplished nothing, nada, zero, zilch! But, today is the reveal at
The Cuttlebug Spot
with challenge #39 - The Inside Counts. Our challenge this week was to create a card but show the inside of our card this time - OK, this really threw my family because rarely do I do anything to the inside of the cards until I am ready to hand/send them out so when they do look in it is blank. Well, they have gotten in the habit lately to not look inside anymore so when I told them to hold up and look inside they were a little shocked! LOL
My card w/it's insides a showin'!! LOL: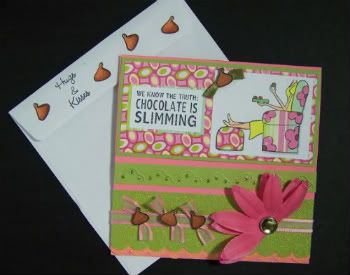 I pulled out one of my favorite MFT stamp sets and stamped it several times on patterned papers and cut out the sections and layered. Last time I colored the chair when I photographed it I could see the marker streaks so I wanted to do it differently this time. I also used the "kiss" looking candy stamp on the flap of the envelope.
I hope you all had a wonderful weekend. Thank you so much for stoppin' by and happy scrappin'!