...........it has been pretty busy around here. I have had to get my DT work for the next week completed, my project for the blog hop at AdornIt, my project for our crop this weekend at Scrappin Mojo done AND school work because.............
...................................
wait for it........................
I start work tomorrow! YAY!! I will be in training for 2 weeks then I go to the local branch (banking) and begin working part-time. I'm tickled pink as it will get me out of the house a bit, a little extra income which we could use right now after our move and eventually it will give us play money!! LOL We sure miss having play money lemme tell ya!!!
So, I got a lot done this weekend scrap wise and it is all scheduled for auto posts starting tomorrow with my CB Spot reveal, Thursday with Charisma Cardz reveal and then the AdornIt Blog Hop and Scrappin' Mojo crop. I also managed to pop in a card for a couple blog challenges that I can show now but you'll have to come back throughout the week to see everything!!!
My card, as seen here: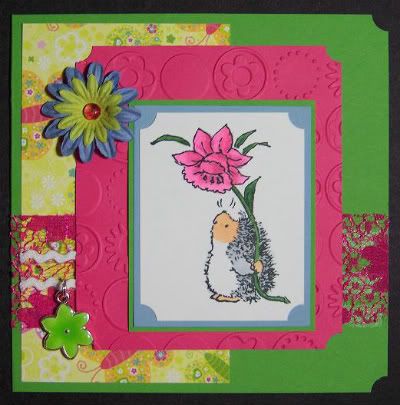 .......is rather, um, well, bright! I did not intend for it to be this colorful when I started it but well, it ended up rather bright and I do like it but it is out of my comfort zone.
The Copics I used are: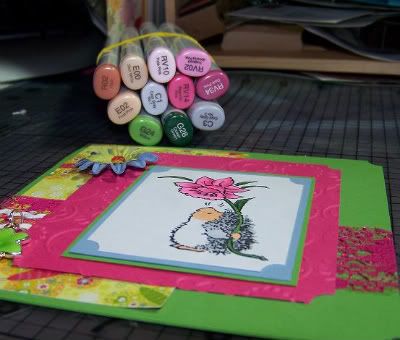 This card is for two challenges:

Penny Black
- recipe challenge to use 3 ribbons, 2 flowers and 1 charm (and a PB image)

Friday Sketchers
- sketch challenge.
Thanks for stoppin' by, keep me in your thoughts for my first week back at work in a LONG LONG time (well a real job that is...LOL) and most of all..........HAPPY SCRAPPIN'!!!!