I'm very excited about our reveal this week at
The Cuttlebug Spot.
We are reviewing past techniques and I have to tell you that one of my favorite techniques ever was learned from
The Cuttlebug Spot
- ironic huh? I absolutely love love love the
Serendipity Technique
showcased as Challenge #21 back in March. I guess that the fact that I won this challenge helps make it even more special to me too huh??? Not to mention I was honored to become part of The Cuttlebug Spot team in June!!! If you didn't see my card that I made for this challenge make sure you take a look at it
RIGHT HERE
- then be sure to come on over and play with us this week. We are doing a blog hop by listing only the links to the DT's blog so you get to "hop" over and see what we are all doing!!! So if you are visiting me first then you should "hop" over to
Katz Designs
where our blog hop started so you see everyone's work. If you have found your way from to me from
Aymee
then you are in the right place and can "hop" right after viewing my card!!!
Now enough chatter from me, here is my Serendipity card:
and here are the Copics I used for this card - yes, there are a lot of colors here: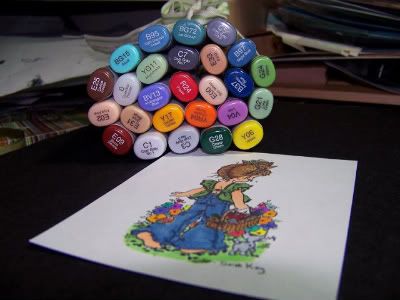 This technique is really so so so easy and fun! I know there are several methods to achieving the same result but I take the easy road out! I measure out my backing cardstock to the size I want - since I take the easy road I make sure it is no larger than embossing folder I am using so I don't have to run it through more than once. I put adhesive on the backing cardstock and then take my choice of patterened papers - I try to get several shade variances from light to dark so it gives good contrast - then I just tear away into pieces and place them on the cardstock lined with adhesive. Now, since I am typically anal about things being lined up and "perfect" I have to trim the edges back to straight before embossing. Once you have the cardstock covered and trimmed up it is time for the final step - embossing! Run it through your embossing folder and voila', you have now made a serendipity card base!!!
Now, in typical Karen fashion I also used this card for the
Friday Sketchers challenge #61
AND I am going to link this card in addition to the one I did the other day to the Stampavie DT call!! Wish me lots of luck!!!
Now the last thing before I send you on your way is a little blog candy - As much as I'd love to keep it a secret so I have a better chance to win I can't not tell you about it. If I am not gonna win I'd love it to be one of my blogging buddies so check out
Crafty Goings On
for their 72 Copic Marker giveaway!!! And if you visit there because of me, it would be so sweet if you mentioned it! By mentioning you were referred by me does NOT give me any more of a chance than you but it is nice to see that word of mouth is working!!!!
Here is the pic they have on their blog of the candy:
The requirements are simple (as quoted from Crafty Goings On Blog):
"""""The twist is that we want you to link to a project on your blog (in your comment) that either uses a download or a stamped image that you coloured in.
*
Link to a card you made with a download or a stamped image (does NOT have to be one of ours).
*
If you are using one of the Charmed Cards & Crafts downloads or Delectable stamps then you get two chances (please enter two comments, in the second just write "my second chance). All entries will be checked.
*
Link to the candy on your blog.
Please note that if you leave more than the allowed amount of comments then you will not be eligible for entry."""""""
OK, "hoppers" you have made it through my post and it is time to check out the rest of my "sistahs" work. Make sure you stop by
Stephanie's
to see her card and continue on with the "hop."
As always thank you for stoppin' by and happy scrappin'!!!
PS If you try out the Serendipity challenge please link your creation here as I'd love to see it!!! If enough people try it I might just put together a little RAK so make sure you check back and see how many people played along and who won the RAK!!!