Well, I've only submitted one time before for a manufacturers design team and said I doubted I would ever do it again because the disappointment is just too great but..........................I lied!! I have found that regardless of the disappointment the creation still thrills me so, whether I make it or not I have created and that creation will bring a smile to someones face when I send it out so it is a definite win win situation! Wish me luck!
I am actually submitting this one card for two calls - Inky Impressions and Stampavie.
First call - Inky Impressions:
I do not own any Inky Impressions stamps and just recently found out about them from an online friend of mine is carrying the Inky Impressions stamps in her store and I've been drooling over them wanting to order but have had to put all scrappy purchases on hold (it isn't like I don't have enough stuff to keep me busy....LOL). Well, what did I hear through the grapevine this week??? Inky Impressions is holding it's 2nd design team call and well, I figured what the heck, these stamps are gonna be mine one way or the other - maybe sooner if I make it but if not later when I get back to work!
In order to submit for the DT call you had to use these colors (or as close as you had):
The second call - Stampavie:
What can I say. I love these stamps. I own two Sarah Kay stamps and two Rachelle Anne Miller stamps (check out
THIS
post for the Rachelle Anne Miller stamp that I just adore as I haven't stamped the other SK or RAM stamps just yet but plan on it soon) and think they are just too flippin' adorable! I actually have the 2nd RAM stamp on my desk getting ready to use it in the next couple days!! The submission requirements for the Stampavie DT Call was simple - post your submission on your blog and link back. Easy peasy lemon squeezy right?
So without further delay here goes:
I used the Basic Grey Urban Prairie line as the colors were pretty close for the Inky Impressions requirements and, most importantly, I just love these papers!! I've been hording them (you all know what I'm talking about) not wanting to use them because they are so "purty"!!!
Anywho, my card:
and as I promised to start trying to do each time I use my Copics, a picture showing the ones I used: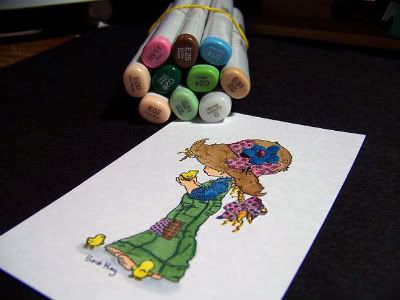 I used this card for a blog challenge as well - no surprise there, I love to combine challenges when I can as I can use parts of each challenge to make a beautifully delicious card!! LOL This week at 2 Red Bananas they had a sketch challenge and I love the simplicity of the sketch so that the focus of the card remained the stamped and colored image!!!
First call - Inky Impressions - Part Deux:
The 2nd part of the DT call requirements is to post one of your fav cards and altered projects that you have made before in order for them to get a feel for your style. Well I had a really hard time because I usually make cards that I love hence the reason I make them right??? Every one of my cards I have ever made - yes even back to my omg look at that days has something special about it so I have narrowed it down to one of my more recent cards but by no means are any of the other cards I have made any less special.
My most recent fav card: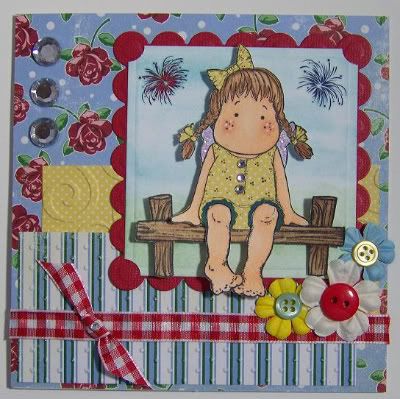 This card has more meaning behind it than most - as you can read about in
THIS
post.
Now for the project - this one is tough! But, I keep going back to this lamp that I bought at the thrift store for $3.33.
Lamp before Karen:
Sorry for the small pic, not sure why it is so small and I can't find the original anywhere as it has been a good couple years since making this.
Lamp after Karen:
and a close up of the lampshade - I tore that baby apart thinking it was a preform and then whoops!! I had two wire circles and had to reassemble a lamp shade!! I used papers from the Basic Grey Mellow line (yes, I have a BG fetish) and love the cloud paper as the lamp shade!!
OK, off to work on another card - I feel my mojo working so I need to take advantage of it!!
Thanks for stoppin' by, wish me luck and happy scrappin' all!!!