...................Who's there?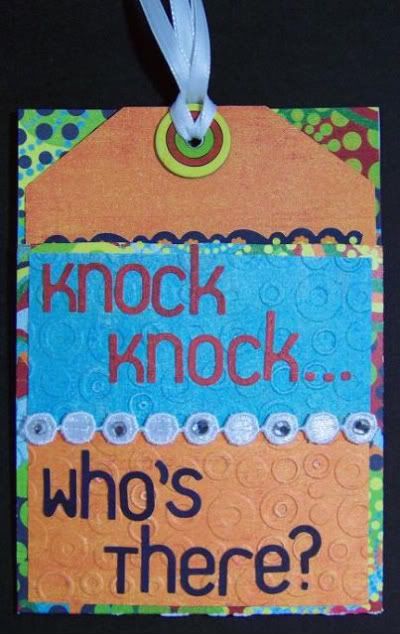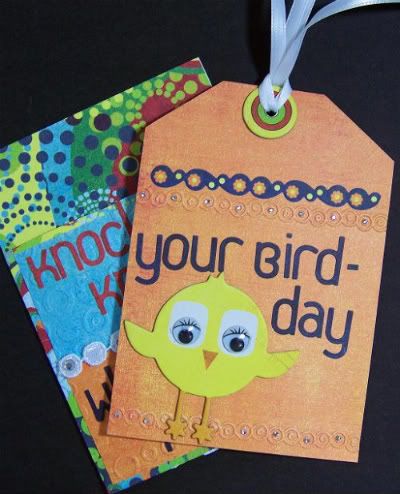 OK OK OK yeah, I know - Karen you are so flippin' corny!!! What can I say!!! This week at
The Cuttlebug Spot
we were challenged to "Tell/Show Me Something Funny" and as soon as I saw the theme this popped in my head!!! It was most likely because I had just recently worked with the Lime Rickey papers by BG and the little birds were just so cute that I was trying to figure out what I was gonna do with them...........well, now you have it!! I used the Frills border embossing folders on the top and bottom of the tag and then on the library pocket font I used Spots & Dots embossing folder. Lime Rickey papers as mentioned along with the alphas and bird that came with it. The one thing I added that makes me giggle every time is the googlie eyes with eyelashes. Thanks to Cait for suggesting googlie eyes when I was finishing up. I added a little bling to every other raised spot on the Frills border embossing as well.
I made a library pocket and tag and voila - easy peasy lemon squeezy!! I started a little tutorial on how to make the library pockets but then I realized it wasn't that hard so I nix'd it. But, if you would like measurements just leave me a message here and I'll send them to ya!!!
PS: I've gotten several emails about my bread and cinnamon rolls asking for the recipe. I have to tell you, after all these years of trying to make bread and failing unless it has been the premixed boxes you buy at the store I can tell you first hand that if I can do it, you can!!! The recipe is so simple to follow and doesn't require anything crazy or out of the ordinary. If you'd like to get the recipe just check out
The Simple Dollar
and follow the easy steps and before you know it, fresh homemade bread by YOU!!!! For cinnamon rolls I just rolled the dough out, mixed butter & cinnamon into a paste, spread it on, rolled up the dough, cut into circles, let rise the 2nd time and baked at 350 for about half an hour if I remember right!!
As always, thanks for stoppin' by and happy scrappin'!!!