I saw the challenge over at House Mouse was white on white. I used to flip out when I would be told I couldn't use anything but white cardstock but I am actually becoming quite comfortable with it. I can admit that I don't think it is as pretty as other stuff I do with all the color but it is growing on me. When I saw they wanted white on white my little bride couple House Mouse stamp popped into my head because when I think of white I think of weddings. I stamped the House Mouse on white cardstock, colored it in, used my Sakura white gel pen to "color" in the veil even though you can't tell it here and then my Sakura purple gel pen to add a couple highlights to the cummerbund and tie. For the design of the card I used the Mojo Monday card sketch. I cut 1 inch strips of white cardstock, ran them through my Frills CB embossing folder then used a light purple chalk to shade the raised areas...........oh yeah, I chalked the background of the couple too hoping it would make it pop out a little more - not really sure if it worked or not. I added ribbon and some flowers that I got from the wedding section of Hobby Lobby for half price - a bunch of these were regularly $.99 so they were $.50 and there are 12 flowers on them and if you wanted to take them apart and use gems or something else for centers you could have 24 flowers - plus they are just really pretty!!
Enough yapping - here is my card:
and the Copics and Sakura gel pens I used: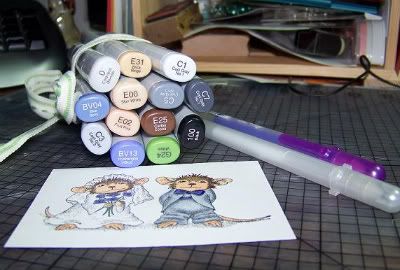 Thanks for stoppin' by and if you venture out to try white on white let me know, I'd love to see how it comes out!!! Happy Scrappin'!!!