WOW!!! I am in shock and so tickled!! Little did I know that when I said in my post this morning announcing the end of the DT at Am I A Scrap Addict - Sketches about all good things come to an end and new doors DO open that it would be today!!!
I went for an interview with the University of New Mexico and came home a little down as I was told flat out that it was an extremely competitive market right now at the University but there were lots of positions open and/or opening and thousands of applicants and interviews going on. I was given a lot of good info though and was told to apply for EVERYTHING that I knew I was qualified for AND even for stuff that I was not totally sure on and let them do the deciding on whether I am fully qualified or not. So anywho, I came home not as excited as when I left because I just didn't feel "it" if you know what I mean. Well, my mood QUICKLY changed when I got an email from Carly at
Charisma Cardz
!!!! I have been asked to be a temp DT member while Leanne gets moved to Dubai!!! How exciting is that???
Here's the banner and link for the site, I hope you will all come play with us!!!!
Charisma Cardz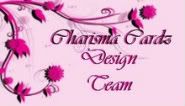 Now this isn't a permanent position over there at this time but, it is for the next 8 to 10 weeks while she is getting settled in and internet access set up. I'm really excited and had to share - I really hope you will find time to come play with us!!!
Thanks for stoppin' by and happy scrappin'!!!!