I want to start off by saying thank you to my friends and family for their love and support this past year. Without all of you I think I might have lost my mind with everything that 2008 held for us.
We are going to be starting off 2009 with a bang I hope. We have a positive outlook on the job situation, my schooling is going well and I am hoping to start working part-time in the medical field!!!
As for tonite, it was a nice, quiet evening at home with our kids. We are so lucky that they still want to hang out with us!!! I know if they'd been out on the town I'd been a nervous wreck tonite so I savor the fact that they would rather hang out here and be safe!!!
Dylan and Rob played Scrabble, Call of Duty and Halo 3 for a while in between watching the New Year's Eve specials. Cait and I spent the evening scrapping - this thrilled me as it has been so long since she has scrapped with me!!! At midnite the traditional hugs and kisses then we headed outside to shoot off a box of 9 year old, yes 9, fireworks. They were left here when we moved to Corpus and when we came back surprisingly with everyone pilfering through our house they never took the fireworks. We were a bit hesitant when lighting them but they were fine!!! I even got a couple good pics of them!!!
Things are starting to wind down I think. I finished up what is probably my last scrappy project for tonite and am gonna snuggle up with Rob til he is ready to head to bed.
I wish all of you a Happy New Year, I hope 2009 brings everything you wish for!!!
Here are my scrappy projects:
Star Gazing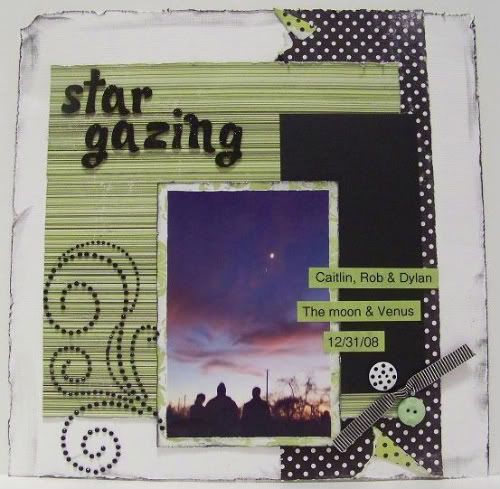 Friend Card
Altered Calendar - I'll put a picture on the left side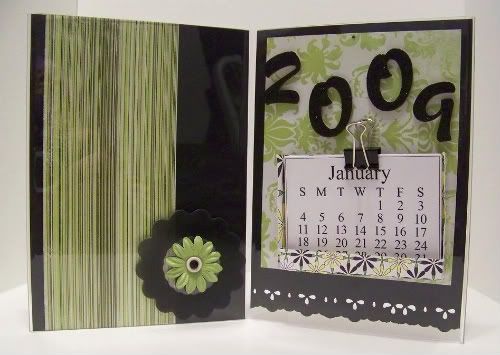 Thanks for stopping by!!!
Again, Happy New Year!!!
Happy Scrappin'!