The weekend has just started but I've been busy busy busy!!! Our son had a friend stay over last night so we had a ton of fun with that and I scrapped!!! I finished up one challenge for JS and a couple for over at Treasured Scrapbooking where they are having a fun filled weekend crop!!!
Here is my LO for JS. It actually fills the spot for 2 challenges when I started it for Cee's challenge and then it ended up filling Cristal's as well. I don't typically like to do double duty so I have plans to do another for Cristal's but for now, I am doing double duty with this LO!!!
Cee's Challenge - Use "All I Want For Christmas" in your title
Cristal's Challenge - A LO using snowflakes and bling
My LO:
Material List:
PP = Making Memories
Ribbon = Making Memories
Brad = Making Memories
Cardstcok = Misc From Stash
Flower = Prima (my new ones from my SS)
Stickles = Gold
Chipboard Snowflake = Basic Grey
Bling Snowflakes = Icons MAMBI
Journaling:
Even though money is tight this year all I could ever want is you!!! Funny faces & all!!! I love you baby!!! K- 12/08
I had a little help while trying to snap a pic too: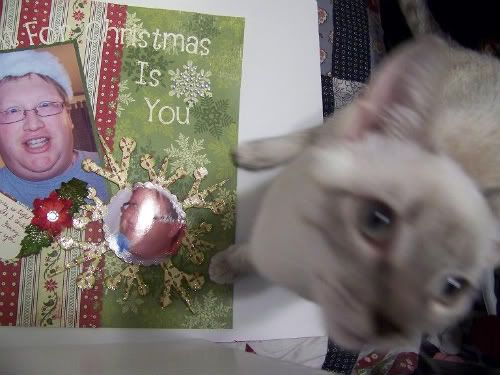 Now over at TS the holiday crop is full of great challenges. The first challenge that I decided to take on last night was Cristal's ornament make'n'take. She did this in steps to teach us how to make the ornament and well, I have never been known for my patience with reading directions and it showed with the first ornament. Now the first real clue I had that the ornament was NOT right was the fact that I had 2 extra pieces left over!!! HA HA HA!!! The second clue was it sat like a bowl on my desk. Of course I hadn't looked at the pictures of Cristal's completed project as of yet but knew something was not right and decided I was gonna give in and look. Boy howdy was it NOT right!!!
Here is my first attempt at the ornament:
That thing is just hideous!!!
After taking a look at Cristal's I could see where I went wrong and decided to give it another shot!!!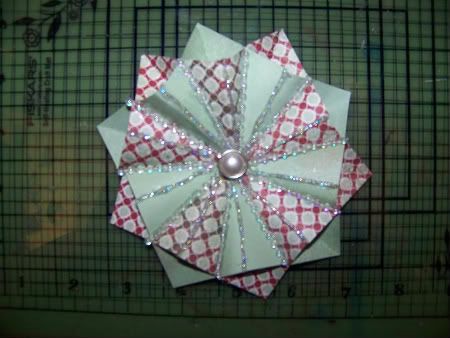 Much, much better!!!
Material List:
PP = Basic Grey Figgy Pudding
Stickles = Frosted Lace
Pearl Brad = Paper Studio
Crystal Beading = Wright's Creative Classics
The next challenge I played in was a make'n'take from Julie. She gave us a wonderful Christmas gift of two digi card templates so we could insert our own pictures!!!
Here are the pics from last Christmas I used in mine:
This first one is my daughter, Caitlin. Last year she had this elf hat she wore EVERYWHERE and on Christmas she made a little get up that made her look like a little elf!!! She had so much fun and I got so many good pictures of goofy faces!!! I put "Just Elfin' Around - Caitlin 12/2007" as the title under the pic!!!
This second one is my parents last year in front of their Christmas tree. My Mom had been really sick the prior 14 months so we were really blessed to have her still with us. This year I am going to get another pic of them in front of our tree as it will be the 3rd year in a row I've gotten my Dad to get up and take a pic like this and since Mom just had surgery a week ago I am very thankful she is here again this year with me!!! The title on it is "Joe & Barbara 12/2007"
The next challenge that I played along with was an easy one!!! We were given a list of things and we were to interpret the list as we saw fit and post pics!!! This was fun - I dug out some cute pics of ours and filled each category. If you wanna see this one you'll have to come join us at
Treasured Scrapbooking!!!
OK, I'm off to work on my DT card that is due today. I don't know why I put it off this time til the last minute but I did. The sketch is fabulous but very much a challenge to me this time around - I've trashed 3 different tries at it, which is why I am now at the last minute trying to finish it up!!!
After my DT card you will find me playing over at TS so come on out and get some scrapping done!!!
Happy' Scrappin'