Well, I finished a LO tonite!! Woohoo!!!
This was a challenge at Treasured Scrapbooking by Dawn called Half'n'Half - it was def a challenge but I do like the end result.
There is a little story behind this LO though - as with most LO's. This precious angel, and when I say angel I mean it, is Tyler Jonathon Fulton, the son of my BFF from high school Julie. If you are a follower of the blog you have seen me talk of him before in the last few months in LO's I've done with him and Cait. He was born August 1991 just 6 months before Cait and they were the best of friends. He left us suddenly and tragically in December of 1993 - shortly after this picture was taken. He was fascinated with this Santa Clause that I had made in high school and would carry him around everywhere when he came to visit. He was so precious and happy all the time and I miss him so much. It has really helped to scrap about him lately but it also brings to light how long he has been gone. This my friends is my Santa Cutie: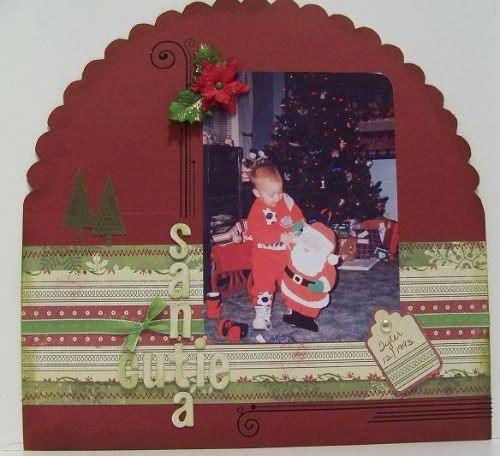 Thanks for stopping by.
I wish you all a Merry Christmas. Please cherish the ones you love as you never know when they will be suddenly taken from you.
Happy Scrappin'!!!