Yep, that is me!!! I haven't blogged a thing since the crop - well, I haven't done a thing since the crop either!!! It has just been so busy w/the kids winding down the school year, me winding down the school year and the holidays approaching that I've been in a total Bah Humbug mood!!!
So, what have I got to post about today:
1. How cute are my babies - well, the 4 legged ones??? I just love it - of course DH thinks I'm nutts - I am!!!
Santa's Kitty Elf: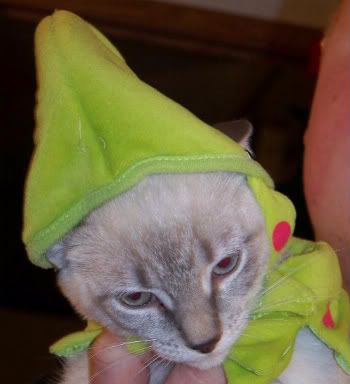 And Santa's Mrs. (Doggy Style):
Neither of them were too happy with their Christmas outfits but I thought they were too cute and of course I'll have to scrap these pics!!!
2. My tag I made at the Treasured Scrapbooking crop a week ago won!!! How cool is that??? I had so much fun scrapping over there I didn't need to win a thing but I did and I was so excited. But, I got my prize and Wowzers!!! Lisa (aka justlisa) outdid herself with the prize!!! Check out what I got:
3. About a week and a half ago I went down to take my Mom shopping after her surgery (she wasn't supposed to be driving) and she traded me sewing machines. I had a nice Singer heavy duty machine but I never sew anymore. I had been talking about wanting to sew on LO's and Cards but just hadn't done it yet so she saw the new Pixie by Singer at WalMart for $49 and bought it to trade me so she can start sewing again and I would have something smaller to craft with. The girls at Just Scrappin' asked me to do a review about it so here it is:
Pixie – The Craft Machine by Singer
OK girls, the newest love of my scrappy life is the Pixie machine by Singer. This can be purchased at WalMart for $49 and it durable enough to sew your toughest layouts and even simple sewing of fabric - I wouldn't try denim or leather on it.
Here is what my new little friend looks like:
My hand, which is an average size hand, to show dimensions:
The pedal, which is the only real downfall for me because it is so small and I'm used to the normal sized pedals: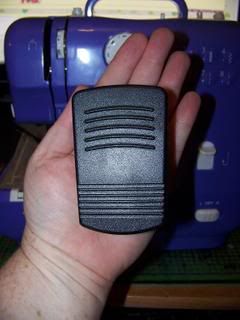 The power adapter (this thing runs on batteries too):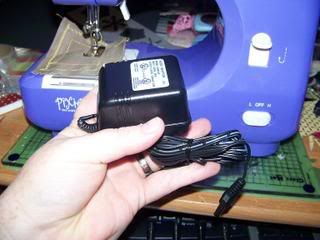 The 8 stitches it does: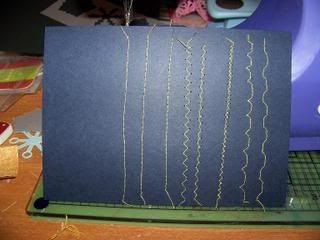 OK the pros:
1. It is lightweight and compact - I'd say it weighs maybe 5 lbs. Due to it's size I would say it is perfect to travel with and crop. The dimensions are 10 inches in length, 4 inches in width and 11 inches in height – including the carrying handle.
2. You can power this machine with the AC adapter included OR with AA batteries – how much more convenient could that be to crop with?
3. You can sew using the pedal OR with the L/OFF/H switch – L means a slower but steady stitch, Off, well yeah and H meaning a faster stitch. I did not try the auto sew feature as I am a big enough goof using a pedal I don't need it going non stop on me…..LOL
4. There are 8 different stitches to give just about any decorative edge you would like and you don't have to switch out stitch bobbins or anything – just turn the knob to the desired stitch.
5. It will sew paper, cardstock and material with ease. I would be leery of using it on thick chipboard, leather or denim even though it says it can handle it. I would hate to break it so I have opted to stick with the thinner materials.
6. It uses standard needles, bobbins and spools of thread – no specialty items needed or expensive adapters to use what you may already have on had. These items are all relatively inexpensive to buy at WalMart if you ever need to replace them.
7. It is purple!!! If it can't be Pink then Purple is the next best thing for me!!!
8. Singer – enough said. Quality merchandise for years has built a good repuatation for the company so I could easily see them replacing anything if it were to get messed up due to manufacturer defects and possible even human error.
OK the cons:
1. The pedal is way too small for me – it works just fine but my whole foot covers it and I don't feel as I have as much control as with the bigger pedals. It will take time for me to get used to it and then I am sure it will work just fine.
2. It is plastic so if you were to drop it I would be afraid of what would happen – it probably won't be long til I find out considering how clutsy I am.
3. There is a small light near the pedal that has an on/off switch but I can not see how to replace the bulb if it were to burn out. I like having the light because the older I get the harder it is for me to see sometimes so when it burns out I maybe duct taping a mini flash light back there….LOL
4. This is the only real complaint I have about it but if I would have read the directions thoroughly (I skim, I always skim) I would have been OK. When you go to change the stitch the needle MUST MUST MUST MUST be in the furthest position upright when you change or it will totally lock up on you every time you start to stitch by about the 3rd stitch. As long as the needle was in the proper position (about 5 times later when I was getting pissed and calling it a POS) it switches just fine so make sure you read the directions thoroughly for any little things that could make a difference in your sewing.
Overall I rate this machine as a great addition to your scrappy tools. It is lightweight and compact enough to take to crops as well as it doesn't take up a ton of storage room in your scrappy space. It offers a nice variety of stitches for your cards and layouts and also allows for minor sewing projects – again I wouldn't try sewing anything heavier than a standard weight material especially if you bought it just for crafting purposes. The price is well worth the machine to me at this point and I'm so glad my Mom wanted to trade out my heavy duty Singer for this little girl as I feel I will definitely put it to use and sew on a project very soon!!!
***NOTE*** I do not work for Singer so this review is totally unbiased - just what I think about it from my brief stint at using it so far!!!
4. I finished off this term with a 4.0 again!!! I am so thrilled!!! I haven't rec'd my final grade in my composition class but I have had a 100 throughout the course so unless she decides all of a sudden she doesn't like my work I figure my final will be in the mid to high 90's which will easily keep me at my 4.0 GPA!!!! Oh yeah, I got a certificate for my first term that put me on the President's List!!!
5. My sweetheart of a friend Aymee nominated me for the "If Life Hands You Lemons, Make Lemonade" blog award. I really appreciate that she thinks so highly of me - she knows I love her to death and admire her work as much as she says she admires mine!!! So, on with the blog award:
I will have to work on this as I have so many blogging friends that I love to stalk and some that aren't friends yet but I just admire so much so it will be a hard decision to make!!! Maybe I'll take the chicken way out and leave it open to everyone who visit's my blog - I know if you are all like me you visit so many blogs and don't always remember the ones you saw stuff at that you really liked (I really need to learn the art of making lists of all the fab bloggers out there) so you would love to nominate everyone!!!
Other than that, nothing going on. Just preparing for Christmas which will be pretty quiet around here. I'm making home made chili on Wednesday and just can't wait - I love me some chili!!! Right now I'm catching up on message boards and working on a LO at the same time - yeah I try to multitask but I get sidetracked so easily!!!
So, if I don't get a chance to say this:
Happy Scrappin'!!!