So, we are on to week 2 for the sponsored challenge at
Just Scrappin'
. The prize is a kit specially put together for JS by
Kelly with Keep In Touch
. The challenge was:
The Recipe
DUE By 10:00pm July 20th!
This theme is 2! Read carefully!!! You want to get this right!
Using ONLY TWO colors!
You may choose from these Color Combinations.
The ONLY other color allowed is Black OR white...NOT black AND white.. ONLY one or the other!
Yellow/Orange
Blue/Yellow
Green/PINK
Brown/Blue -
Check - My color combo choice.
Pink/Orange
You must use TWO pieces of non-flower Chipboard No more no less
Check - Two pieces of non flower chipboard are on the corners of the pictures
You must use either 2 pieces of felt OR 2 paint colors Not BOTH No more no less
Check - I painted the chipboard blue then painted brown dots on them.
You must use 2 Flower OR Pieces of Ribbon No more no less
Check - 2 ribbons threaded on the side by using the Leave it to Weaver punch I won from Just Scrappin',

OH AND 2 Pictures!!!!!
Check - Used 2 pictures from our recent road trip of the beautifully majestic old churches in Fredricksburg.
OK, I did it!!! After two disasters I walked away last night and woke up fresh this morning. Rob had to go pick up some cables from the electronics store which happened to be near Archiver's so he dropped me off and I went in to find my inspiration. As soon as I saw the brown butterfly paper (by Chatterbox) I knew instantly what I would be doing!!!
OK, so mats are:
Blue Cardstock - Bazzill Bling
Brown PP - Chatterbox Flutter Woods
Chipboard - Making Memories exclusively for Archivers
Paint - Making Memories
Bling - Imaginisce
Brad - Misc Stash
Ribbon - Making Memories Cosmo Ribbon in Blue/Brown
Title - Cosmo Cricket Rub-ons
Stamped Journaling Box - Autumn Leaves Doodle Tagged & ColorBox Chestnut Roan Chalk Ink
Thanks for looking and Cristal, thanks for putting me outside of my box!!!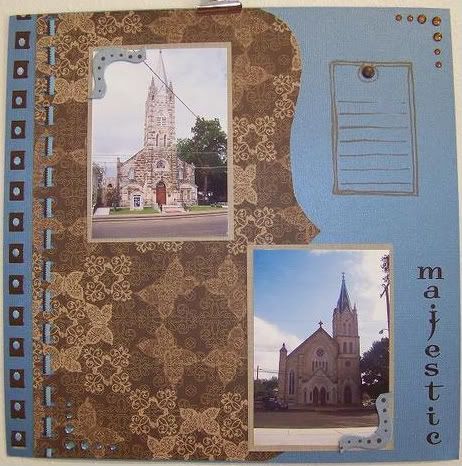 Happy Scrappin' all!!!
Over and out..............