First off, remember back in March I think it was that Cait was one of the top 5 in the Adornit Teen Chix teen challenge??? Well, she got her prize pack in mid May and got to work on it. Cait sent her work in a couple weeks ago and they updated the blog with some of it. Check out the
Adornit Teen Chix
site when you get a chance. I'm so proud of her - she is such a blooming scrapper and to think - this month will be exactly one year since I converted her to a crafter!!!! Great job darling!!!
This layout is an entry for the
Just Scrappin'
July Monthly Challenge. Cristal challenged us to use shaped paper but NOT store bought shaped papers. So, I broke out my Little Yellow Bicycle papers in Vita Bella along with my new Threading Water punch by Fiskars and got started. The colors of the paper really made me think that I needed a water picture. But Cait used one of the awesome ones we got from our road trip and I didn't feel like using it again so soon so I decided I'd do my Diva Daisy in another LO - heck she's gonna need her own album before too long!!! LOL Anywho the bling is from Me and My Big Ideas Icon sets, the white lace is from Making Memories Fresh Anthology Sydney set, the flowers are Prima and the quote is from the Vita Bella CS quote set that matches the papers. It is hard to see but I also used Tim Holtz Distressing ink in Weathered Wood on the photo mat. It is kind of hard to read but the title is Daisy Paddlin' (ya know, doggie paddlin'.....LOL, I'm corny I know!!!).
This LO was based off the sketch over at
Sisterhood of Scrap
. As I started working on my LO I remembered seeing the sketch this evening when I was doing my normal blog trolling and thought it would work perfect for this LO. So, without further delay: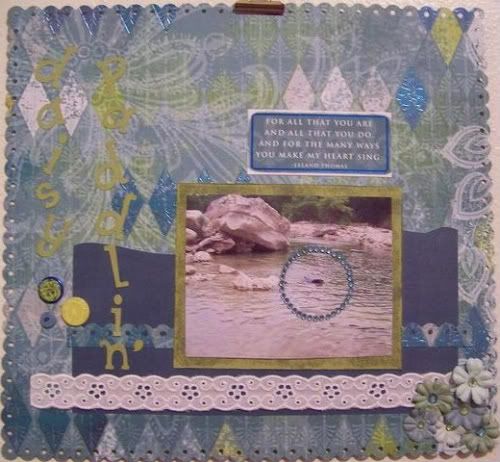 For all you lurkers out there leave me a comment to let me know you've been here!!! I see so many states and countries on my tracker in the sidebar but you are all so shy!!! Speak up and say hi - I love to chat!!!
Thanks for stopping by again.........happy scrappin' and over and out ya'll!!!