Round 3 is finally here and I just finished up my submission this morning. Kelly with
Keep In Touch
sponsored our contest this month. Each round has consisted of a challenge to make us think a little outside the box. Certain limitations and requirements for each LO and such - you know, a typical challenge.....LOL. Sometimes I wonder about myself, I can be such an airhead!!! LOL
Anywho, round 3 had the requirements that you must use cardboard, paint, no pictures and NO flowers...........the flowers I think were the hardest part for me!!!
So, after much deliberation and turmoil I finally finished.
I started out with the intentions of doing my bucket list. I got to thinking that so many people have done their bucket lists - it wasn't for me for this challenge.
Then, I was going to do my tribute to Texas - my home state. I had it all sketched out and was going to use my Cricut cartridges to cut out bluebonnets (yeah, flowers duh it hit me as I started working on it......DOH), pecan tree, mockingbird, jalapenos, etc........you get the idea right???? So once my genius brain realized that the bluebonnet was a flower (yeah I am just that slow at times) I decided not for this challenge.
So, while laying in bed last night I had an epiphany (I guess you'd call it that....LOL). I decided that this summer, being one of the most memorable summers with my family that I've had in a few years, was what I should scrap about. This summer just seemed so much more special for some reason - not that every day I spend with my family isn't special, but this summer, I don't know, I just can't describe it.
So, this morning I found me a piece of cardboard - was too big so I had to cut it down and then paint it, as seen here:
And then I started writing - the hardest part for me on any layout is the journaling so this was a huge step!!! Then it just fell together. I have to admit, I kept reaching for the darn flowers to layer onto this baby!!! I resorted to gems and stickles to get my pretty on - I still think it so needs some flowers on it somewhere but for now, it will go into the album if it will fit into a page protector, as is. I do not feel this is one of my better LO's but I do kind of like it - as I sit and look at it laying on my desk it is growing on me.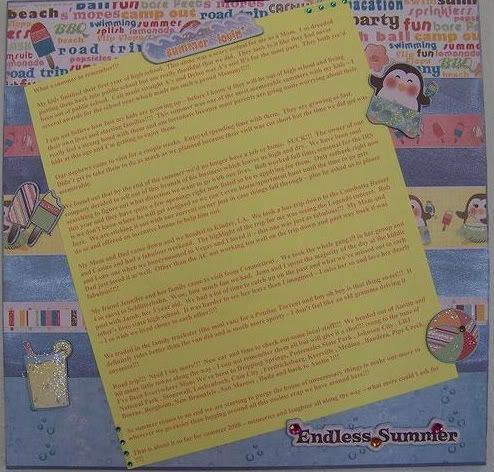 Paints = Making Memories
PP & Chipboard Products = Imaginisce
Glitter Glue = Stickles
Gems = Hero Arts & Junkitz Salsa Collection
Thanks for looking and Cristal, thanks for once again getting me outside my box. Journaling this much was good for me - I might even do it more often!!! LOL
Oh and here is my journaling:
What a summer to remember!!!
My kids finished their first year of high school. This alone was a scary ordeal for me as a Mom. I so dreaded putting them back into public school but am really thankful that we did. They took to it like they had never been out of public school. Cait made straight A's and Dylan was A's and B's for the most part. They both rec'd several awards for the school year which made me such a proud Mommy!!!!
I can not believe how fast my kids are growing up – before I know it they will be out of high school and living their own lives and starting families!!!! This summer was one of the most memorable summers with my kids – I really feel a strong bond with them and am fortunate because most parents are going nutts worrying about their kids at this age and I'm getting to enjoy them.
Our nephews came to visit for a couple weeks. Enjoyed spending time with them. They are growing so fast. Didn't get to take them to do as much as we planned because their visit was cut short but the time we did get was memorable.
We found out that by the end of the summer we'd no longer have a job or home. SUCK!!! The owner of our company decided to sell out of this branch of his business which leaves us high and dry. We have been soul searching to figure out what direction we want to go with our lives. Rob worked full time, seasonal for the IRS this year and they have quite a few openings right now listed so he is applying for them. Only setback right now is we don't know where he will get assigned so we can't even house/apartment hunt until the time to go gets here. We are sticking it out with our current owner just in case things fall through – plus he asked us to please do so and offered an incentive bonus to help him out.
My Mom and Dad came down and we headed to Kinder, LA. We took a bus trip down to the Coushatta Resort and Casino and had a fabulous weekend. The highlight of the trip for me was seeing the Legends concert. Rob and I saw one when we honeymooned in Vegas and I loved it – this one was just as fabulous!!! My Mom and Dad just loved it as well. Other than the AC not working too well on the trip down and part way back it was fabulous!!!!
My friend Jennifer and her family came to visit from Connecticut. We took the whole gang (9 in her group and 4 in ours) to Schlitterbahn. Wow, how much fun we had. Jenn and I spent the majority of the day at the kiddie pool with Jacob, her 3 year old. We had a lot of time to catch up on the past and what we've missed out in each other's lives since high school. It was harder to see her leave than I imagined – I miss her so and love her dearly – I so wish we lived closer to each other!!!!
We traded in the family truckster (the mini van) for a Pontiac Torrent and boy oh boy is that thing sweet!!! It definitely rides better than the van did and is much more sporty – I don't feel like an old gramma driving it anymore!!!
Road trip!!! Need I say more!!! New car and time to check out some local stuff!!! We headed out of Austin and hit many little towns along the way - I can not remember them all but will give it a shot!!! (sung to the tune of I've Been Everywhere Man) We've been to Dripping Springs, Pedernales State Park, Johnson City, LBJ National Park, Stonewall, Luckenbach, Cain City, Fredricksburg, Kerrville, Medina, Bandera, Pipe Creek, Boerne, Bergheim, New Braunfels, San Marcos, Buda and back to Austin!!!!
As summer comes to an end we are starting to purge the house of unnecessary things to make our move to wherever we go easier than lugging around all this useless crap we have around here!!!
That is about it so far for summer 2008 – memories and laughter all along the way – what more could I ask for !!!!
Thanks for stopping by, Happy Scrappin'!!!
Over and out ya'll....................