How many times have we thought about sending something to someone out of the blue just to cheer them up and get sidetracked and not get it done??? For me, ALL THE TIME!!!! I have so many things that I want to send to people (and shoot me if you want to, prizes that need to STILL be mailed) but I get to doing other things and well, they don't make it back to the top of the priority list for a week or so.
Well, Cristal at JS challenged us to surprise a friend. It doesn't take much to let someone know you are thinking of them and they are special. We all love to feel special right??? I chose a young lady on our board who is just that, a young lady. She is 16 and the daughter of one of my fellow scrappers. I love to see her work because you can tell from her LO's that she has fun with what she has done. So, I chose Ms. Ally!!!
Here is what I made for her: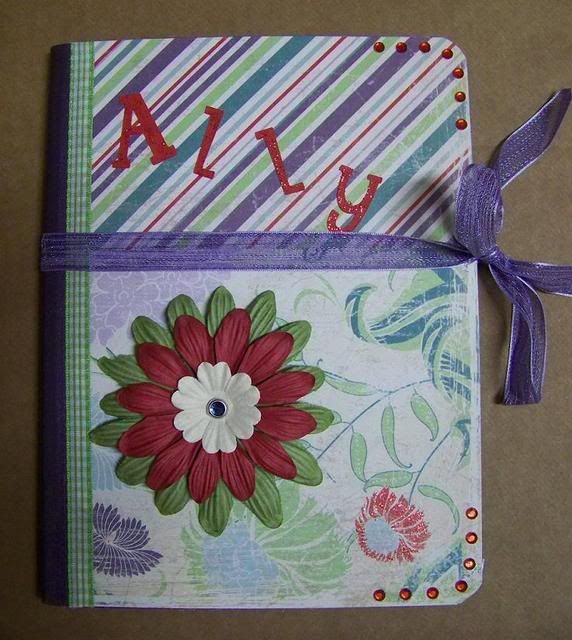 I used some older Crate Paper I had stashed and had been hoarding away for something special!!! Her mom told me she loves the color purple and thought the purple on this paper and the ribbon were just gorgeous!!!! You can't tell it from the picture but I painted the spine with Making Memories Amethyst shimmery paint. The flowers are from Bazzill and the brad is Paper Studio.
I still have a few more things to make to send out so hopefully Saturday morning (Monday at the latest) I can get to the post office and mail off, oh, I think, um 5 packages!!! No, when I finish the other 2 things I'm making that will make 7 packages - see, I told you I was horrible with remembering to mail stuff off!!!
Happy Scrappin'!!!!
Over and out ya'll....................