...............how cool is that??? I've seen blog awards before but never thought anyone would be so sweet to give me one!!!!
I want to thank my new blogging friend
Nicky
for giving me this award - I was really shocked and honored!!!!
So, time for me to PIF (pay it forward) the blog award. The rules are as follows:
1. Only 5 people allowed.
2. 4 have to be dedicated followers of your blog
3. one has to be someone new or recently new to your blog and live in another part of the world.
4. you must link back to whoever gave you the award.
This is going to be difficult for me to narrow it down to just 5 people but I will do my best. If I didn't choose you please don't be offended, I visit lots of blogs and I love everyone that I visit and try to comment to let them know how much I love their work. This award is basically a way of saying thank you to those who take the time to visit me each day and comment on my work - everyone loves an ego boost once in a while!!!!
My choices, in no particular order are:
1.
Caitlin
- My daughter, blogging buddy, scrappy buddy and BFF!!! I love you so much baby girl and thank God every day for blessing me with you. I am also thankful that we are able to be so close to each other. You are an inspiration to me and I love watching you grow creatively!!! (She was also nominated by Nicky but I couldn't leave her out!!!)
2.
Cristal
- I've known Cristal, aka Pinky, for about 8 months now. I have been blessed by her friendship and have learned a lot from her, especially self acceptance. Cristal is a newer scrappy artist but I've been given the honor of watching her grow into a FABULOUS scrapper!!!
3.
Lori
- Wow, what can I say about Lori. She is my best friend and has been for over 15 years. We have been through so much including 2 tattoo's together, many a break up with boyfriends, being single mom's raising kids who were 2 months apart in age, ice skating in the parking lot with me to fall and bust my head up to nights out drinking, partying and dancing (when we were younger of course). Lori is the one who introduced me to this whole online scrapping world - I could thank her or curse her for that!!!!
4.
Ruby
- I don't know Ms. Ruby all too well but my daughter and her, along with 3 other young ladies won the Adornit Teen Chix blog challenge this past March. I've watched Ruby and Cait chat a bit and share work and inspire each other. I love the fact that these young girls are starting out so young and have so much talent already. I predict some great changes in the scrappy world as they become adults and pursue their passion in scrapping!!! I love looking at Ruby's blog as she always has pictures popping up - family, crafty, everything.
5.
Melissa w/Pink Cat Studio Stamps
- Ha Ha, I get in so much trouble here. Melissa is the coolest stamp artist I know right now. When she releases stamps I go nutts til I can get my hands on them!!! She is so friendly and positive and creative. Her stamps are not only fabulous designs, they are top quality for long term stampability!!!! Her blog is always full of inspiration, happy posts and her DT, well they really showcase her stamps!!!! To top it all off, she offers the quickest shipping I've seen and her customer service is just top notch!!!
This was a hard choice for me - I had to narrow it down when I'd love to have listed 20 or more blogs for this. Thanks to everyone who I visit for the inspiration you provide - you are all amazing people!!!
Now, on to what I'm working on. My friends Aymee and Ashely over at JS made rolodex's that have their sketches in them, tips and tricks and more. Aymee showed hers in our forums and wow, it is amazing. So I am trying my hand at altering a rolodex to include names/addresses/birthdays/anniversaries/etc along with scrappy stuff like sketches. With the upcoming move my internet access may be limited and if that is the case I am going to need something at my fingertips for those times I get creative block!!!
Here is a pic of the front of it so far - I am thinking it needs a bit more but I do like it so far. Notice the kitty, remember my #5 nomination up there??? This is Crafty Kitty from PCS - isn't she just freaking adorable???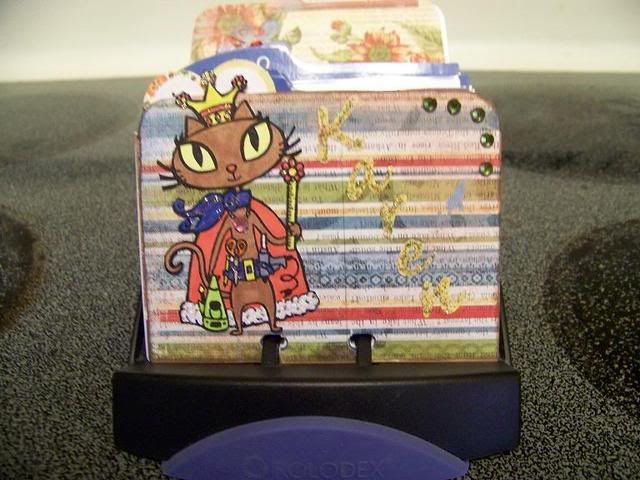 And here is a pic of the only other divider I've completed - I've been cutting out the sketches and putting them on cards so I'm not progressing with the altering of the rolodex quite as fast!!! LOL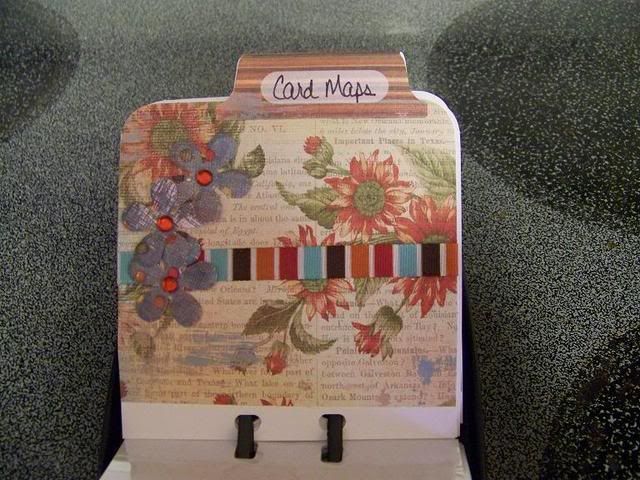 That is it for today. If you are looking for some cool blog candy stop by Cristal's blog (#2 up there). She is offering up some rain dots and stamps as blog candy - all you gotta do is visit the Keep In Touch blog and leave a comment that Just Scrappin, Cristal or Karen from Just Scrappin sent ya then comment on her blog and you could win!!! You don't have long for this blog candy so get to blog hopping!!!!
I'm out now - gonna work on my rolodex some more, may take a nap and may stress a little more about our upcoming move that I am totally unprepared for not to mention my first college class starts Wednesday night so I am nervous about that!!!!
Happy Scrappin' and over & out ya'll......................