.................Little One
Wow, do you know this is the FIRST layout I've done since the first part of April if I remember right???? Things have been so busy that I just haven't had a chance to worry with layouts because they typically take me forever!!! LOL
Well, this is my new great niece, Serinity. I am working on an album for her and this is the opening page. Now, this is not my typical style - it is very, well, plain. But I like it plain. I may go back later and add more to it to make it more me but for now, page 1 of the album is complete!!!
I'm using the DCWV Nursery - Baby Girl stack for the majority of the album with some solid cardstock tossed in here and there. I used the Home Accents Cricut cartridge to cut out the "welcome" and the New Arrival cartridge for the "little one" and the "feet." I stickled "little one" and chalked around the "feet" and "welcome" to give it a little dimension. Oh yeah, I also put some pink chalk on the flower. On the lace I put a little pink flower charm.
Here's a close up of the chalking and stickling - is stickling a word?? Well, it is now!!!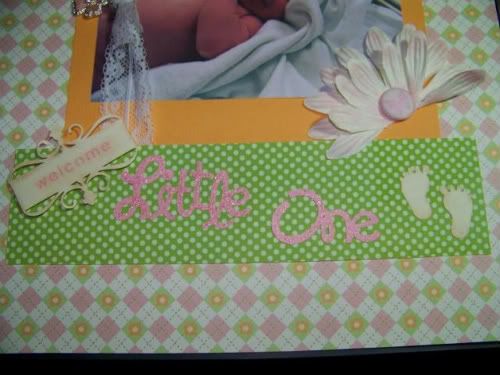 Thanks for stoppin' by and happy scrappin'!!!