Hi there!!! Today was a beautiful day in New Mexico! We hit highs of around 90 but this afternoon brought some storms through that really cooled things off!!! I was talking to my Mom about 4:45 our time (5:45 Texas time) and she said it was 101 degrees..............we were at, um, 74...............man I'm loving it!!!
Tonite Cait and I are scrapping. It is nice to have my girl scrapping with me again instead of her head in the computer - it would be there but we are having connection problems and Comcast isn't due out til morning so she can't really play her video games.........LOL
Anywho, here is a LO I completed for the Summer Soiree Blog Hop at Scrappin' Mojo. The challenge was to use a cute little nature animal so, my animal is the owl. I used a second sheet of paper and cut the owl out and layered it with a pop dot for dimension then I added, oh yeah, you see right, GOOGLIE EYES!!! I love using googlie eyes but don't have the chance to use them very often so I take it when I get it!!! The picture is of a tree that was growing on the side of the mountains when we went to the Jemez for my birthday. This beautiful tree was pretty much all alone in its glory and I couldn't resist snapping a pic!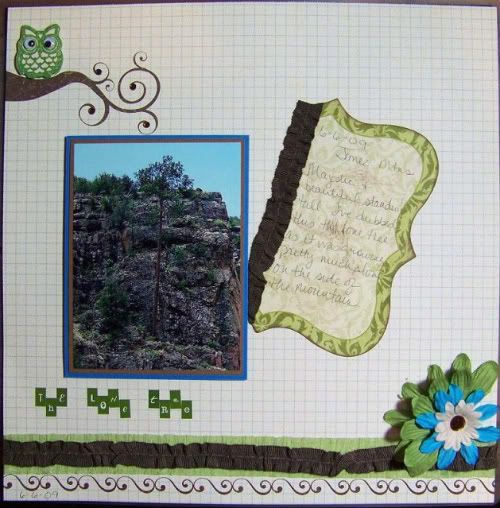 Hope you like it!!!
Thanks for stoppin' by and happy scrappin'!!!