Well, moving has gotten the best of me!!! I set up a post to automatically go up today with my DT cards for
Am I A Scrap Addict - Sketches
and
The Cuttlebug Spot
and blast it, it didn't work!!!
So, my card for
Am I A Scrap Addict - Sketches
was inspired by this fab sketch De gave us to work with this month. I told her that she keeps outdoing herself as I think this has to be my fav sketch of hers so far!!!
Here's the sketch:
And here is my card - isn't this MFT stamp just too darn cah-yute???? I am loving it!!!
And my new DT spot that I am just thrilled to be a part of at
The Cuttlebug Spot
challenged us to bring out the stamps and boy, Nilda sure picked a great challenge for my first reveal because we ALL know how much I love my stamps!!! I used this darling Magnolia stamp - Tilda is just the cutest little girl, I can't get enough of her. I only have two Tilda stamps right this moment but you KNOW that I am gonna get more right??? LOL
So, here's my card: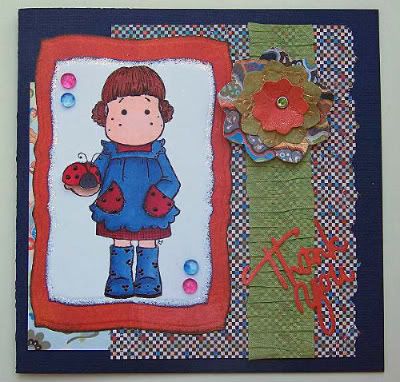 I'm kind of disappointed in how the photographing of this card turned out. You can't hardly tell I used my CB Embossing folders and that just stinks because up close it is just so cute!!! On the checked background paper I used Bloom & Dots while on the layered flower I used three different embossing folders then spritzed it with my home made "glimmer mist" using Ranger's Perfect Pearls. Overall I love love love the card but wish my embossing would have shown up better.
On to the moving news:
We didn't leave Texas til after 3 pm and we were already whooped when we headed out. About midnight we decided we needed sleep something crazy like!!! We stopped in Tucumcari (spelling????) for the night but ended up pulling out of there around 4 am because we just couldn't sleep anymore - we all wanted to just get to our new home. We pulled in Albuquerque around 7:15 am and started unloading. By 11 am we were feeling the lack of sleep and showered off and took naps til around 2 pm then finished unloading the truck. Slept like a baby last night let me tell ya - I am NOT supposed to work that hard..............LOL!!!! Rob and the kids were amazing. With my back I just can't do what I used to and I hate to freaking admit it but after this move it was a big slap in the face that my back has gotten the best of me!! Oh well, what's a girl to do right???
I am off to help Rob finish getting the screen put up in the bedroom so we can watch TV tonite. We have a ton of unpacking to still do but with him working I am taking it slow. I did get our bed moved into the bedroom (with the help of the kids, it's solid cherry wood and HEAVY) and the night stands and dresser. I managed to get it all put together (again with the help of the kids) and started putting our clothes up where they belong. I have my suitcase and another bag of clothes left and I'll be done. Rob got our washer and dryer hooked up tonite so I have some of his clothes going since he's been here with no washer/dryer for 3 weeks and has only ran to the laundromat for necessities!!!!
Thanks for stopping by and happy scrappin'!!! I am so excited and can't wait to get my scrap stuff unpacked and in my new scrappy area (aka the dining room closet....LOL) and to get creating!!!